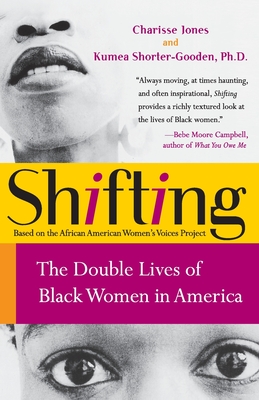 Shifting: The Double Lives of Black Women in America
Publication Date:
July 27th, 2004
Publisher:
Harper Perennial
Usually Ships in 1 to 5 Days
Description
"Always moving, at times haunting, and often inspirational, Shifting provides a richly textured look at the lives of Black women. Jones and Shorter-Gooden poignantly portray the day-to-day challenges and triumphs of 'sisters' at work, in relationships, and in their spiritual lives." — Bebe Moore Campbell, author of What You Owe Me
Based on the African American Women's Voices Project, Shifting reveals that a large number of African American women feel pressure to compromise their true selves as they navigate America's racial and gender bigotry. Black women "shift" by altering the expectations they have for themselves or their outer appearance. They modify their speech. They shift "white" as they head to work in the morning and "Black" as they come back home each night. They shift inward, internalizing the searing pain of the negative stereotypes that they encounter daily. And sometimes they shift by fighting back.
With deeply moving interviews, poignantly revealed on each page, Shifting is a much-needed, clear, and comprehensive portrait of the reality of African American women's lives today.
Praise for Shifting: The Double Lives of Black Women in America
"A deeply moving, intimate and important book about the emotional costs for Black women in white America." — Harriet Lerner, author of The Dance of Anger
"Always moving, at times haunting, and often inspirational, Shifting provides a richly textured look at the lives of Black women." — Bebe Moore Campbell, author of What You Owe Me
"Searing...as I read Shifting... I wanted to rip out chapters and send them to nearly everyone I know." — Gwen Ifill
"Jones and Shorter-Gooden are wise, warm and candid, breaking new ground.... An important and powerful book for us all. — Mary Pipher
"Meaningful and poignant...this well researched and beautifully written book is a must read." — William Pollack, Ph.D., author of Real Boys
"Poignant…based on research garnered from the African American Women's Voices Project, the largest study to date of black women." — Booklist
"Stress is a common theme...the authors found good news...'We're learning that we don't have to lose ourselves.'" — Essence
"Urgent...compelling and educational…a real contribution." — Publishers Weekly