Discounted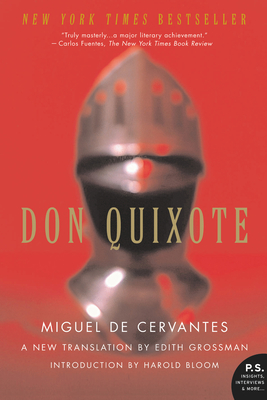 Don Quixote
Previous price:

$24.99
Current price:

$19.99
Publication Date:
April 26th, 2005
Usually Ships in 1 to 5 Days
Description
Edith Grossman's definitive English translation of the Spanish masterpiece, in an expanded P.S. edition and with an introduction by Harold Bloom
"A major literary achievement."—Carlos Fuentes, New York Times Book Review
Widely regarded as one of the funniest and most tragic books ever written, Don Quixote chronicles the adventures of the self-created knight-errant Don Quixote of La Mancha and his faithful squire, Sancho Panza, as they travel through sixteenth-century Spain. You haven't experienced Don Quixote in English until you've read this masterful translation.
This P.S. edition features an extra 16 pages of insights into the book, including author interviews, recommended reading, and more.
Praise for Don Quixote
"Grossman has given us an honest, robust and freshly revelatory Quixote for our times" — Publishers Weekly (starred review)
"A major literary achievement." — New York Times Book Review
"Ms. Grossman…has provided a Quixote that is agile, playful, formal and wry…. What she renders splendidly is the book's very heart." — New York Times
"It is thrilling to add Grossman's to the bookshelf of Don Quixote possibilities. Her rendition confirms that Cervantes' imperfect masterpiece is as much at home in Shakespeare's tongue as it is in Spanish." — Los Angeles Times
"This new translation relates the story of the man of La Mancha and his vivid imagination in a way that is more in tune with a 21st-century reader." — Los Angeles Daily News
"Marvelous new translation." — The New Yorker
"The Grossman translation blows the dust off Cervantes, leaving his light-footed prose and his sly, gentle mockeries." — Dallas Morning News
"[Edith Grossman's] rendering of Cervantes' prose conveys all of its complex subtleties in a fresh and attractive style that is neither overly traditional nor colloquial." — San Diego Union-Tribune
"This new version of Don Quixote is thoroughly modern...the words are familiar, the humor's intact." — Austin American-Statesman