Discounted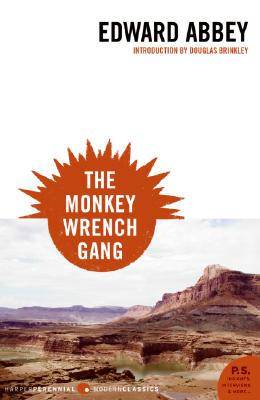 The Monkey Wrench Gang
Previous price:

$17.99
Current price:

$16.99
Publication Date:
December 12th, 2006
Publisher:
Harper Perennial Modern Classics
Usually Ships in 1 to 5 Days
Description
"A thing of beauty. . . . A wildly funny, infinitely wise, near to tragic tale of man against the bog god machine." —Houston Chronicle

Edward Abbey's classic comic gem of destructive mayhem and outrageous civil disobedience—the novel that sparked the environmental activism movement.
Ex-Green Beret George Hayduke has returned from war to find his beloved southwestern desert threatened by industrial development. Joining with Bronx exile and feminist saboteur Bonnie Abzug, wilderness guide and outcast Mormon Seldom Seen Smith, and libertarian billboard torcher Doc Sarvis, Hayduke is ready to fight the power—taking on the strip miners, clear-cutters, and the highway, dam, and bridge builders who are threatening the natural habitat. The Monkey Wrench Gang is on the move—and peaceful coexistence be damned!
"Ribald, outrageous, and, in fact, scandalous." —Smithsonian