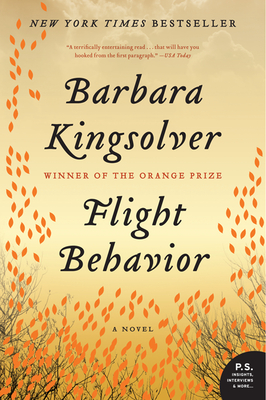 Flight Behavior: A Novel
Publication Date:
June 4th, 2013
Publisher:
Harper Perennial
Usually Ships in 1 to 5 Days
Dellarobia Turnbow, who is ready to run away from her unsatisfactory life on a Tennessee farm, comes across a river of flame on the mountain behind her home: millions of Monarch butterflies. The insects, wintering in Appalachia instead of their traditional Mexican grounds, open Dellarobia's circumscribed life, slowly drawing her out into the wider world. Kingsolver's precise prose, deep characters, and provocative questions -- evidence versus faith, duty versus choice, facts versus perception -- will resonate with readers as they contemplate the real world and its global changes.
November 2012 Indie Next List
Description
New York Times Bestseller
"An intricate story that entwines considerations of faith and faithlessness, inquiry, denial, fear and survival in gorgeously conceived metaphor. Kingsolver has constructed a deeply affecting microcosm of a phenomenon that is manifesting in many different tragic ways, in communities and ecosystems all around the globe." — Seattle Times
A truly stunning and unforgettable work from the extraordinary New York Times bestselling author of The Lacuna (winner of the Orange Prize), The Poisonwood Bible (nominated for the Pulitzer Prize), and Animal, Vegetable, Miracle
Flight Behavior is a brilliant and suspenseful novel set in present day Appalachia; a breathtaking parable of catastrophe and denial that explores how the complexities we inevitably encounter in life lead us to believe in our particular chosen truths. Kingsolver's riveting story concerns a young wife and mother on a failing farm in rural Tennessee who experiences something she cannot explain, and how her discovery energizes various competing factions—religious leaders, climate scientists, environmentalists, politicians—trapping her in the center of the conflict and ultimately opening up her world. Flight Behavior represents contemporary American fiction at its finest.
Praise for Flight Behavior: A Novel
"Drawing on both her Appalachian roots and her background in biology, Kingsolver delivers a passionate novel on the effects of global warming." — Booklist (starred review)
"With her powerful new novel, Kingsolver delivers literary fiction that conveys an urgent social message… a clarion call about climate change, too lucid and vivid for even skeptics to ignore." — Publishers Weekly, Starred Review
"Enthralling…Dellarobia is appealingly complex as a smart, curious, warmhearted woman desperate to-no resisting the metaphor here-trade her cocoon for wings." — O, the Oprah Magazine
"A dazzling page-turner" — Elle
"Kingsolver has written one of the more thoughtful novels about the scientific, financial and psychological intricacies of climate change. And her ability to put these silent, breathtakingly beautiful butterflies at the center of this calamitous and noisy debate is nothing short of brilliant." — Washington Post
"The novel really soars in the exquisitely drawn scenes where a strapped woman feels claustrophobic in a dollar store or panicked during a job interview or wistful for her bright young son's future. Dellarobia is a smart, fierce, messy woman, and one can't help rooting for her to find her wings." — Entertainment Weekly
"Dellarobia is appealingly complex as a smart, curious, warmhearted woman desperate to-no resisting the metaphor here-trade her cocoon for wings." — O, the Oprah Magazine
"One of the gifts of a Kingsolver novel is the resplendence of her prose. She takes palpable pleasure in the craft of writing, creating images that stay with the reader long after her story is done…(a) majestic and brave new novel." — New York Times Book Review
"An intricate story that entwines considerations of faith and faithlessness, inquiry, denial, fear and survival in gorgeously conceived metaphor. Kingsolver has constructed a deeply affecting microcosm of a phenomenon that is manifesting in many different tragic ways, in communities and ecosystems all around the globe. This is a fine and complex novel." — Seattle Times
"So captivating is this grand, suspenseful plot and the many subplots rising and falling beneath it that it takes some time before we realize what this story is really about —climate change." — Minneapolis Star Tribune
"Spirituality, a troubled marriage, global warming…Kingsolver's latest is a bold mélange, but it works." — People
"Kingsolver is a storyteller first and foremost, as sensitive to human interactions and family dynamics as she is to ecological ones." — NPR
"A delicate symbiosis between the sacred and the scientific in this richly rewarding novel that will both entertain and incite its readers." — BookPage
"FLIGHT BEHAVIOR is a book worth reading twice? first for the intricacies of character, second for the dense, beautiful language Kingsolver puts on the page. She's a keen observer of the messiness and unexpected beauty of the quotidian." — Cleveland Plain Dealer
"By the end of FLIGHT BEHAVIOR, it's clear that Kingsolver's passionate voice and her ability to portray the fragility of the natural world, and why we should care about it, are as strong as ever." — San Francisco Chronicle
"Novelists like Kingsolver have a particular knack for making us empathize with lives that may bear little resemblance to our own…What lifts FLIGHT BEHAVIOR…is not just Kingsolver's nuanced and funny prose; it's Dellarobia's awakening to the possibilities around her." — Julia Ingalls, Salon
"A terrifically entertaining read about a spirited young woman you'll miss the minute you reach the last page." — USA Today
"Marvelous…This is fiction rich in empathy, wit and science. Like the butterflies that astonish Feathertown, Kingsolvian gifts are 'fierce and wondrous,' 'colors moving around like fire.'" — New York Times
"[Kingsolver's] keen grasp of delicate ecosystems-both social and natural-keeps the story convincing and compelling." — The New Yorker