Discounted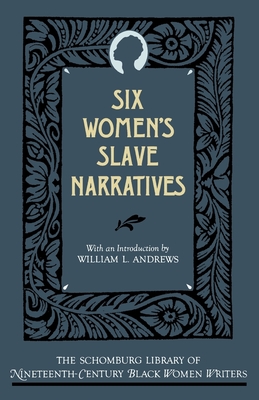 Six Women's Slave Narratives (Schomburg Library of Nineteenth-Century Black Women Writers)
Previous price:

$26.99
Current price:

$24.99
This product is not returnable.
Publication Date:
December 14th, 1989
Publisher:
Oxford University Press, USA
Usually Ships in 1 to 5 Days
Description
The History of Mary Prince, a West Indian Slave (1831) was the first female slave narrative from the Americas. The Story of Mattie J.Jackson (1866) recounts a quest for personal freedom and ends with a family reunion in the North after the Civil War. The Memoir of Old Elizabeth, a Colored Woman (1863) is the tale of a 97-year-old ex-slave who became a preacher. Lucy A.Delaney's From the Darkness Cometh the Light or Struggles for Freedom (c. 1891) records a former slave's achievements in the quarter-century after the end of the Civil War. Kate Drumgoold and Annie L.Burton also describe their successes in the postwar North while eulogizing black motherhood in the antebellum South.