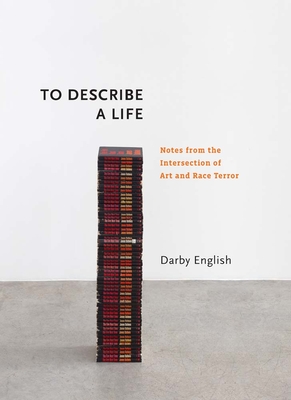 To Describe a Life: Notes from the Intersection of Art and Race Terror (Richard D. Cohen Lectures on African & African American Art)
Publication Date:
March 26th, 2019
Publisher:
Yale University Press
Description
A passionate, rigorous, and persuasive look at the helpful complexity of art during a time of profound cultural turmoil
By turns historical, critical, and personal, this book examines the use of art—and love—as a resource amid the recent wave of shootings by American police of innocent black women and men. Darby English attends to a cluster of artworks created in or for our tumultuous present that address themes of racial violence and representation idiosyncratically, neither offering solutions nor accommodating shallow narratives about difference. In Zoe Leonard's Tipping Point, English sees an embodiment of love in the face of brutality; in Kerry James Marshall's untitled 2015 portrait of a black male police officer, a greatly fraught subject treated without apparent judgment; in Pope.L's Skin Set Drawings, a life project undertaken to challenge codified uses of difference, color, and language; and in a replica of the Lorraine Motel—the site of Martin Luther King, Jr.'s assassination in 1968—a monument to the unfinished business of the integrated nonviolent movement for civil rights. For English, the consideration of art is a paradigm of social life, because art is something we must share. Powerful, challenging, and timely, To Describe a Life is an invitation to rethink what life in ongoing crisis is and can be—and, indeed, to discover how art can help.
Published in association with the Hutchins Center for African & African American Research
Praise for To Describe a Life: Notes from the Intersection of Art and Race Terror (Richard D. Cohen Lectures on African & African American Art)
"To Describe A Life is a judiciously confected study. It is challenging but equally magnanimous, and it tenders an original and vitally important approach to thinking about art and race terror in contemporary America."—Richard Hylton, Panorama: Journal of the Association of Historians of American Art
 
"Invites us to take seriously art's power to unmake and remake identity and difference . . . at once historical, boldly conceptual, and deeply personal."—Tiffany E. Barber, Winterthur Portfolio
 
Winner of the 2020 Frank Jewett Mather Award for Art Criticism, sponsored by the College Art Association
Winner of the 2020 ASAP Book Prize, sponsored by the Association for the Study of Arts of the Present
"In deft, ruminative essays on three visual icons, Darby English unfreezes our thinking about race and reclaims the possibility of imagining a world defined by rich entanglement, not separation. With the violent police shootings of African Americans as backdrop, this book painstakingly works its way to hope nonetheless, in the company of art that secures freedom by asserting the necessary permanence of human connection."—Danielle Allen, author of Cuz: The Life and Times of Michael A.
"What might a politics of both/and, a politics of you and me both, a politics that goes forward together, our differences included, really look like? How might it rise up from the pat generalities of hate? How might works of art do their part? These are the questions that shadow Darby English's new book. He poses them well, in their own real time, so that we might look at them long and hard. Maybe grow to love them."—Molly Nesbit, Vassar College
"Darby English's voice is so urgent, rigorous, and original that it all but comes alive on the page. To Describe a Life challenges us to look—and then look again—at contemporary art, race terror, and the supercharged spaces in which they intersect."—Richard Meyer, author of What Was Contemporary Art?
"Darby English's generative readings urge us to rethink and unsettle what we might know or feel about form, history, the present. To Describe A Life proposes that art may guide a way forward."—Christina Sharpe, author of In the Wake: On Blackness and Being
"These pages speak with urgency, but more than this, they offer searching, generous meditations on urgency's forms. Rarely is writing on art so insistently and creatively responsive to its moment. This is the writing that the art of our time deserves."—Matthew Jesse Jackson, author of The Experimental Group: Ilya Kabakov, Moscow Conceptualism, Soviet Avant-Gardes