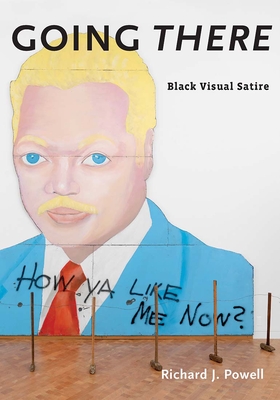 Going There: Black Visual Satire (Richard D. Cohen Lectures on African & African American Art)
Publication Date:
November 3rd, 2020
Publisher:
Yale University Press
Description
A kaleidoscopic survey of black satire in 20th- and 21st-century American art
In this groundbreaking study, Richard J. Powell investigates the visual forms of satire produced by black artists in 20th- and 21st-century America. Underscoring the historical use of visual satire as antiracist dissent and introspective critique, Powell argues that it has a distinctly African American lineage. Taking on some of the most controversial works of the past century—in all their complexity, humor, and provocation—Powell raises important questions about the social power of art.
 
Expansive in both historical reach and breadth of media presented, Going There interweaves discussions of such works as the midcentury cartoons of Ollie Harrington, the installations of Kara Walker, the paintings of Robert Colescott, and the movies of Spike Lee. Other artists featured in the book include David Hammons, Arthur Jafa, Beverly McIver, Howardena Pindell, Betye Saar, and Carrie Mae Weems. Thoroughly researched and rich in context, Going There is essential reading in the history of satire, racial politics, and contemporary art.
Published in association with the Hutchins Center for African & African American Research
Praise for Going There: Black Visual Satire (Richard D. Cohen Lectures on African & African American Art)
"Wide-ranging and painstakingly researched, Going There situates Black visual satire in historical, political, and discursive contexts that tease out the nuances of the form."—crystal am nelson, caa.reviews
"A stark reminder that satire is securely hinged on lived truths that continue to resonate with 21st-century artists—among them celebrities Kara Walker, Donald Glover, and Kerry James Marshall—in whom Black satire lives on. Highly recommended."—M. R. Vendryes, Choice
"An amazing book that dares to 'go there,' plunging into the depths of black visual satire, an abyss where monsters and minstrels revel in the madness of racism. Richard Powell's deeply learned and brilliantly written text dances alertly through the minefield of stereotype and caricature to reveal the critical power of satire."—W. J. T. Mitchell, author of Seeing Through Race and Mental Traveler: A Father, a Son, and a Journey through Schizophrenia
"Going There is a groundbreaking study of African-American visual satire. Powell presents a comprehensive, rigorous, and well-researched investigation into this thorny arena, illuminating some of the most controversial artworks of the twentieth and twenty-first centuries."—Derek Conrad Murray, author of Queering Post-Black Art: Artists Transforming African-American Identity After Civil Rights
"With a steady hand, Powell grounds the tradition of black visual satire in its historical, political, and discursive context. But he doesn't drain the images of their risk. Powell honors the intelligence and audacity of the works and their creators and, most importantly, gives black satire its full historical, aesthetic, and political due."—Mike Sell, author of The Avant-Garde: Race, Religion, War
"Satire and the black condition. An endless quagmire of slippery slopes, and inverted dialogues. Richard Powell skillfully dissects the social dynamics of humor in the black context demonstrating how we are perpetrators, and those perpetrated upon. It is a must read for all Americans willing to implicate themselves. No one will escape."—Lowery Stokes Sims, co-editor, Race and Art Matters: The Career of Robert Colescott