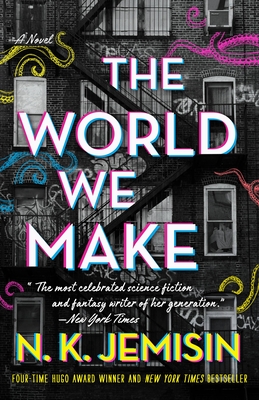 The World We Make: A Novel (The Great Cities #2)
Publication Date:
November 1st, 2022
Usually Ships in 1 to 5 Days
Description
Four-time Hugo Award-winning and New York Times bestselling author N.K. Jemisin crafts a glorious tale of identity, resistance, magic and myth.
All is not well in the city that never sleeps. Even though the avatars of New York City have temporarily managed to stop the Woman in White from invading—and destroying the entire universe in the process—the mysterious capital "E" Enemy has more subtle powers at her disposal. A new candidate for mayor wielding the populist rhetoric of gentrification, xenophobia, and "law and order" may have what it takes to change the very nature of New York itself and take it down from the inside. 
In order to defeat him, and the Enemy who holds his purse strings, the avatars will have to join together with the other Great Cities of the world in order to bring her down for good and protect their world from complete destruction.
N.K. Jemisin's Great Cities Duology, which began with The City We Became and concludes with The World We Make, is a masterpiece of speculative fiction from one of the most important writers of her generation.
The Great Cities Duology
The City We Became
The World We Make
Praise for The World We Make: A Novel (The Great Cities #2)
"Jemisin is one of the most highly decorated writers in fantasy and science fiction today."
 —New York Times/Ezra Klein Show
"Jemisin molds real world events from the past few years with magic and myth into this fantastical page-turner. If The City We Became is a love letter to New York City, then The World We Make is a love song."
 —USA Today
"The kind of book you lose an entire day to...and emerge shaken and dazzled on the other end. The writing is clear and visceral and intense. It's some of the most brilliant, unapologetic speculative fantasy I've read in years."—Washington Post
"Hopeful and enthralling, The World We Make is more evidence of [Jemisin's] ferocious talent."—Esquire
"Jemisin brings her living-city saga to a satisfying conclusion, maintaining a sense of energy and excitement throughout."—Booklist
"It's cathartic to imagine fighting these slippery, inimical forces with magic, to believe for a moment that some complex problems have direct solutions—that passion, faith, and the will to fight can make miracles happen. Perhaps the possibility of confronting those problems head-on might serve as inspiration for all of us facing variants of this issue in the real world and help us model ourselves after Jemisin's characterization of New Yorkers: tough, nasty, but ultimately kind people who defend their own while embracing newcomers into their midst. A ray of hope in a dark time."—Kirkus
"The conclusion to Jemisin's Great Cities duology is a searing commentary on present-day politics as manipulated by a primordial evil...This riveting and powerful urban fantasy duology is masterfully written."—BuzzFeed News
"Jemisin explores resistance and identity through magic and myth, expertly crafting a world in which contemporary concerns are met with catharsis."
—TIME
"Jemisin embodies the spirit of the city in as lush and lively a voice as ever and does a masterful job incorporating even more history and magic."—Publishers Weekly
"Highly recommended for readers who loved the deep dive into myth and roots of American Gods by Neil Gaiman, those fascinated with conspiracy theories about politics and corruption, and anyone who loves a good adventure where plucky underdogs rise up and triumph in spite of themselves."
—Library Journal
"A love letter to a complicated city and the resilient spirit of its residents."—Locus
"Jemisin does not shy away from issues of race, and provides an allegory of the current struggles facing an increasing inequal New York City as a microcosm of a world under threat by fascist monsters... She crafts a genre of her own by representing those who have been systematically silenced. The World We Make is an optimistic book full of action and hope as a parable about inequality and social difference at the end of the world."—Public Books
Praise for The City We Became: 
"It's a glorious fantasy, set in that most imaginary of cities, New York. It's inclusive in all the best ways, and manages to contain both Borges and Lovecraft in its fabric, but the unique voice and viewpoint are Jemisin's alone." ―Neil Gaiman 
"The City We Became takes a broad-shouldered stand on the side of sanctuary, family and love. It's a joyful shout, a reclamation and a call to arms." ―The New York Times
"The City We Became is a masterpiece of eldritch urban fantasy." ―BuzzFeed News
"Jemisin's fantastical stories are anchored in complex societal systems and fully-imagined new worlds―all with fault lines lying in wait―that aim to help us better understand our own." ―TIME 
"Jemisin is now a pillar of speculative fiction, breathtakingly imaginative and narratively bold." ―Entertainment Weekly 
"A love letter, a celebration and an expression of hope and belief that a city and its people can and will stand up to darkness, will stand up to fear, and will, when called to, stand up for each other." ―NPR
"Thrillingly expansive without ever becoming abstract or high-flown." ―The Los Angeles Times
"Three consecutive Hugo Awards and a cover blurb from Neil Gaiman―yes, it's time for you to pick up a novel by Jemisin, whose speculative fiction has a degree of inclusivity rare in the science-fiction world." ―The Washington Post 
"As always, Jemisin's writing is visionary and immersive...[Jemisin is] a science-fiction/fantasy GOAT." ―GQ 
"The City We Became is a raucous delight, a joyride, a call-to-arms, a revolution with plenty of dancing. Eat your heart out, Lovecraft." ―Alix E. Harrow, author of The Ten Thousand Doors of January 
"The most important speculative writer of her generation...She's that good." ―John Scalzi
"Some of the most exciting and powerful fantasy writing of today...Jemisin's latest will attract...even those who don't typically read genre fiction." ―Booklist (starred review)
"As raw and vibrant as the city itself." ―Library Journal 
"A love/hate song to and rallying cry for the author's home of New York...Fierce, poetic, uncompromising." ―Kirkus (starred review) 
"A fierce, opinionated vision of a storied metropolis facing down existential threats." ―Shelf Awareness 
"This contemporary fantasy of living cities in a multiversal struggle demonstrates [Jemisin's] accomplished storytelling and characterization. Highly recommended for anyone interested in some of the most exciting and powerful fantasy writing of today...Jemisin's latest will attract both media attentions and curious readers, even those who don't typically read genre fiction." ―Literary Hub