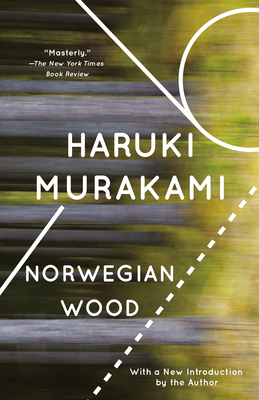 Norwegian Wood (Vintage International)
Publication Date:
September 12th, 2000
Usually Ships in 1 to 5 Days
Description
From the bestselling author of Kafka on the Shore: A magnificent coming-of-age story steeped in nostalgia, "a masterly novel" (The New York Times Book Review) blending the music, the mood, and the ethos that were the sixties with a young man's hopeless and heroic first love.
Now with a new introduction by the author.
Toru, a serious young college student in Tokyo, is devoted to Naoko, a beautiful and introspective young woman, but their mutual passion is marked by the tragic death of their best friend years before. As Naoko retreats further into her own world, Toru finds himself drawn to a fiercely independent and sexually liberated young woman.
Stunning and elegiac, Norwegian Wood first propelled Haruki Murakami into the forefront of the literary scene.
Praise for Norwegian Wood (Vintage International)
"A masterly novel.... Norwegian Wood bears the unmistakable marks of Murakami's hand." —The New York Times Book Review
"Norwegian Wood...not only points to but manifests the author's genius." —Chicago Tribune

"[A] treat...Murakami captures the heartbeat of his generation and draws the reader in so completely you mourn when the story is done." —The Baltimore Sun
"Vintage Murakami [and] easily the most erotic of [his] novels." —Los Angeles Times Book Review