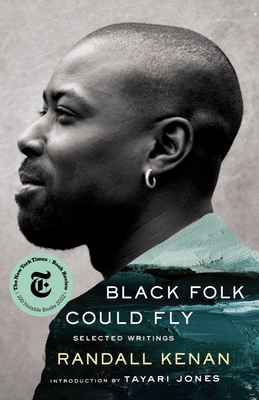 Black Folk Could Fly: Selected Writings by Randall Kenan
Publication Date:
August 9th, 2022
Publisher:
W. W. Norton & Company
Usually Ships in 1 to 5 Days
Description
A New York Times Notable Book
A Book Riot Best Book of 2022
A personal, social, and intellectual self-portrait of the beloved and enormously influential late Randall Kenan, a master of both fiction and nonfiction.
Virtuosic in his use of literary forms, nurtured and unbounded by his identities as a Black man, a gay man, an intellectual, and a Southerner, Randall Kenan was known for his groundbreaking fiction. Less visible were his extraordinary nonfiction essays, published as introductions to anthologies and in small journals, revealing countless facets of Kenan's life and work.
Flying under the radar, these writings were his most personal and autobiographical: memories of the three women who raised him—a grandmother, a schoolteacher great-aunt, and the great-aunt's best friend; recollections of his boyhood fear of snakes and his rapturous discoveries in books; sensual evocations of the land, seasons, and crops—the labor of tobacco picking and hog killing—of the eastern North Carolina lowlands where he grew up; and the food (oh the deliriously delectable Southern foods!) that sustained him. Here too is his intellectual coming of age; his passionate appreciations of kindred spirits as far-flung as Eartha Kitt, Gordon Parks, Ingmar Bergman, and James Baldwin. This powerful collection is a testament to a great mind, a great soul, and a great writer from whom readers will always wish to have more to read.
Praise for Black Folk Could Fly: Selected Writings by Randall Kenan
[Kenan] dreams a path forward using resources that lie deep in the past. This applies to the whole of Black Folk Could Fly, a collection of essays that, while less known than his celebrated fiction — many appeared as introductions or in small magazines — provide rare insight into Kenan's life and mind, while retaining the humor, humanity and elegant power for which he is loved. In a sense, the collected pieces function as memoir, or as a series of love letters to the forces that shaped the writer.
— Kinohi Nishikawa - New York Times
Through a profound analysis of food, music, film, and literature, Kenan explores the many aspects of African American life in the American South…In his estimation, the time when Black Folk Could Fly is past, present, and future. It is all about how we consider ourselves and the world.
— Kashif Andrew Graham - Chapter 16
Randall Kenan's posthumous collection of essays soars…his pieces on Southern footways sparkle with personality and color…his acute attention to sense of place permeates his work, no matter the genre. One of the hallmarks of his writing is his ability to put his audience in vivid-sensory-filled spaces.
— Latria Graham - Atlanta Journal Constitution
Each essay in this collection is an education, an illumination, a bridge from the past to the present, to the future, as long as Randall Kenan's writing is read. The breadth of his knowledge of life, food, literature, American history, his own history, touches down here again and again in moments of mixed grace, candor, and wit. The result is a book you sit with instead of rush through, lingering like you might with a friend when you just don't want to say goodbye.
— Alexander Chee, author of How to Write an Autobiographical Novel
Randall Kenan's erudition was matched only by his imagination, his love for his homeplace only by his vast appreciation of elsewhere, his profound engagement with Black culture only by his daring and thoughtful explorations of its broader meanings. Few writers are as secure in their various identities as he was and as generous in celebrating the worlds of others. This collection is a tribute to one of the great writers in the African American tradition and assures his place in the canon. It also reminds us how much we need to hear his voice today.
— Henry Louis Gates Jr., author of The Black Church
Almost everything in the inimitable sound of Randall Kenan's baritone voice is contained in this collection of beautiful thinking and feeling. The warm, mercurial intelligence of Kenan's smile, especially, is made word in this collection of beautiful thinking and feeling, thank goodness.
— Terrance Hayes, author of American Sonnets for My Past and Future Assassins
In these wonderfully far-ranging essays Randall Kenan writes with wit, warmth, and humility about Baldwin and Bergman and Blackness and the great Eartha Kitt. Best of all, he writes about himself: his fascinating childhood, his relationship with the South, his thoughts on Star Wars and Race and writing and pop culture and barbecue. He understood we live in perilous times; he understood the necessity of joy.
— Margot Livesey, author of The Boy in the Field
Stirring, deeply thought-through essays and letters on topics ranging from sexuality and racism to foodways and the sense of place... A superb introduction to a writer deserving much greater recognition.
— Kirkus (starred review)