Discounted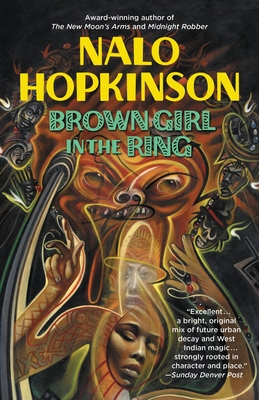 Brown Girl in the Ring
Previous price:

$17.99
Current price:

$16.99
Publication Date:
July 1st, 1998
Publisher:
Grand Central Publishing
Usually Ships in 1 to 5 Days
Description
In this "impressive debut" from award-winning speculative fiction author Nalo Hopkinson, a young woman must solve the tragic mystery surrounding her family and bargain with the gods to save her city and herself. (The Washington Post)
The rich and privileged have fled the city, barricaded it behind roadblocks, and left it to crumble. The inner city has had to rediscover old ways -- farming, barter, herb lore. But now the monied need a harvest of bodies, and so they prey upon the helpless of the streets. With nowhere to turn, a young woman must open herself to ancient truths, eternal powers, and the tragic mystery surrounding her mother and grandmother. She must bargain with gods, and give birth to new legends.
Praise for Brown Girl in the Ring
"Excellent...a bright, original mix of future urban decay and West Indian magic...strongly rooted in character and place."—Sunday Denver Post
"A wonderful sense of narrative and a finely tuned ear for dialogue...balances a well-crafted and imaginative story with incisive social critique and a vivid sense of place."—Emerge
"An impressive debut precisely because of Hopkinson's fresh viewpoint."—The Washington Post
"Hopkinson lives up to her advance billing."—New York Times Book Review
"Hopkinson's writing is smooth and assured, and her characters lively and believable. She has created a vivid world of urban decay and startling, dangerous magic, where the human heart is both a physical and metaphorical key."—Publisher's Weekly
"Splendid....Superbly plotted and redolent of the rhythms of Afro-Caribbean speech."—Kirkus Review
"Utterly original....the debut of a major talent. Gripping, memorable, and beautiful."—Karen Joy Fowler, author of The Jane Austen Book Club