Discounted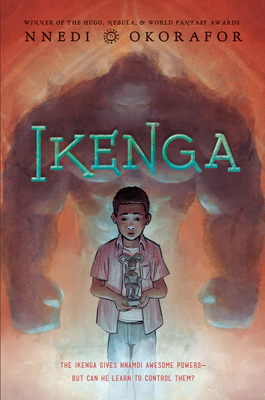 Ikenga
Previous price:

$8.99
Current price:

$7.99
Publication Date:
August 24th, 2021
Publisher:
Viking Books for Young Readers
Usually Ships in 1 to 5 Days
This is a story that deals with heavy issues through the lens of a 12-year-old boy who lost his father and now seeks justice, superhero style. Preteens often get stuck between books that are too kiddy or too adult; without making it too 'old' for them, this walks the fine line of what someone this age is thinking and prepared to learn about. I love the respect Nnedi Okorafor gives kids by putting deep issues and thoughts into her books.
Fall 2020 Kids Indie Next List
Description
An NPR BEST BOOK OF THE YEAR
An AMAZON BEST CHILDREN'S BOOK OF 2020
 
Nnedi Okorafor's acclaimed first novel for middle grade readers introduces a boy who can access super powers with the help of the magical Ikenga.
Nnamdi's father was a good chief of police, perhaps the best Kalaria had ever had. He was determined to root out the criminals that had invaded the town. But then he was murdered, and most people believed the Chief of Chiefs, most powerful of the criminals, was responsible. Nnamdi has vowed to avenge his father, but he wonders what a twelve-year-old boy can do. Until a mysterious nighttime meeting, the gift of a magical object that enables super powers, and a charge to use those powers for good changes his life forever. How can he fulfill his mission? How will he learn to control his newfound powers?
Award-winning Nnedi Okorafor, acclaimed for her Akata novels, introduces a new and engaging hero in her first novel for middle grade readers set against a richly textured background of contemporary Nigeria.
Praise for Ikenga
An NPR BEST BOOK OF THE YEAR
An AMAZON BEST CHILDREN'S BOOK OF 2020
★ "This wonderfully fresh superhero origin story offers a look into the shadowy, inexplicable powers that are suddenly in the hands of an ordinary child…Okorafor has created unique, multifaceted characters that will have young readers hoping for Nnamdi's next adventure." —School Library Journal, STARRED REVIEW
★ "In her first middle-grade novel, Nnedi Okorafor deftly explores grief and corruption through this southeast Nigerian Igbo superhero origin story. With its enduring themes, charismatic characters and exhilarating events, Ikenga powerfully shows spiritual and fantastical elements confronting real-world problems." —Shelf Awareness, STARRED REVIEW
"Ikenga, the powerhouse speculative fiction writer Nnedi Okorafor's middle grade debut, is a propulsive, juju-filled novel set in a fictional Nigerian town...Okorafor's narrative provides comfort precisely because she refuses to gloss over violence, loss and pain." —The New York Times
"Smart, exciting and well plotted, Ikenga offers all the traditional superhero satisfactions—colorful baddies, thrilling fight scenes, a hero with morality and justice on his side—in a fresh and distinctive modern-day setting where magic hums just below the surface." —The Wall Street Journal

"Fans of classic superheroes—including Nnamdi's favorite, the Incredible Hulk—and readers looking for a young superhero will find a champion in Nnamdi." —Publishers Weekly
"A memorable middle-grade murder mystery that's darkly humorous in some places and delightfully creepy in others." —Kirkus Reviews
"A tightly paced action-adventure." —Booklist

"This is a dynamic tale of a boy thrust into the role of a superhero....A rich Igbo cultural presence prevails in this novel, sparking an interest for more Nigerian-based stories." —BCCB

"A roller coaster of action...Okorafor succeeds in imbuing West African culture throughout the origin story of a memorable new superhero." —Horn Book