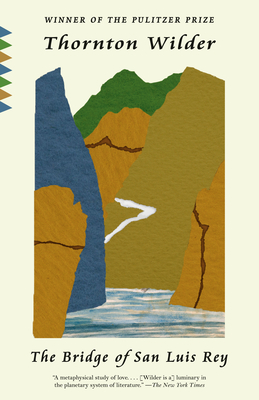 The Bridge of San Luis Rey (Vintage Classics)
Publication Date:
August 15th, 2023
Usually Ships in 1 to 5 Days
Description
This Pulitzer Prize-winning, fable-like short novel—by the author of Our Town and The Skin of Our Teeth—has been beloved around the world for nearly a century.
This splendid and profoundly moving novel begins with a simple and seemingly senseless tragedy. "On Friday noon, July the twentieth, 1714, the finest bridge in all Peru broke and precipitated five travelers into the gulf below." A traveling monk, Brother Juniper, witnesses the catastrophe and becomes obsessed with investigating the lives of the five victims in order to prove that their deaths had meaning. His mission is doomed to fail, but over the course of the story, the five unlucky individuals—a noblewoman, a maid, an orphan, an old man, and a child—come to life for the reader in all of their glorious complexity. Their intertwined lives—snuffed out in one shattering moment—illuminate the biggest questions that we can ask ourselves about the nature of love and meaning of the human condition.
Praise for The Bridge of San Luis Rey (Vintage Classics)
"A metaphysical study of love . . . [Wilder is] a new luminary in the planetary system of literature." —The New York Times

"A masterpiece." —The New York Herald Tribune

"There are books that haunt you down the years, books that seem to touch and stir something deep inside you. . . . The Bridge of San Luis Rey is of this kind." —The Independent (London)
"As close to perfect a moral fable as we are ever likely to get in American literature." —Russell Banks