Discounted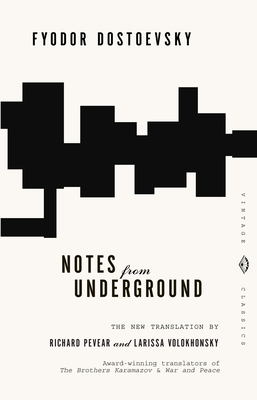 Notes from Underground (Vintage Classics)
Previous price:

$15.00
Current price:

$14.00
Publication Date:
August 30th, 1994
Usually Ships in 1 to 5 Days
Description
Award-winning translators Richard Pevear and Larissa Volokhonsky give us a brilliantly faithful rendition of this classic novel, in all its tragedy and tormented comedy. In this second edition, they have updated their translation in honor of the 200th anniversary of Dostoevsky's birth.
One of the most remarkable characters in literature, the unnamed narrator of Dostoevsky's most revolutionary novel is a former official who has defiantly withdrawn into an underground existence. In full retreat from society, he scrawls a passionate, obsessive, self-contradictory narrative that serves as a devastating attack on social utopianism and an assertion of man's essentially irrational nature.
Praise for Notes from Underground (Vintage Classics)
Praise for previous translations by Richard Pevear and Larissa Volokhonsky, winners of the PEN/Book-of-the-Month Club Prize
The Brothers Karamazov
"One finally gets the musical whole of Dostoevsky's original." –New York Times Book Review
"It may well be that Dostoevsky's [world], with all its resourceful energies of life and language, is only now–and through the medium of [this] new translation–beginning to come home to the English-speaking reader." –New York Review of Books
Crime and Punishment
"The best [translation] currently available…An especially faithful re-creation…with a coiled-spring kinetic energy… Don't miss it." –Washington Post Book World

"Reaches as close to Dostoevsky's Russian as is possible in English…The original's force and frightening immediacy is captured…The Pevear and Volokhonsky translation will become the standard version." –Chicago Tribune
Demons
"The merit in this edition of Demons resides in the technical virtuosity of the translators…They capture the feverishly intense, personal explosions of activity and emotion that manifest themselves in Russian life." –New York Times Book Review
"[Pevear and Volokhonsky] have managed to capture and differentiate the characters' many voices…They come into their own when faced with Dostoevsky's wonderfully quirky use of varied speech patterns…A capital job of restoration." –Los Angeles Times
With an Introduction by Richard Pevear