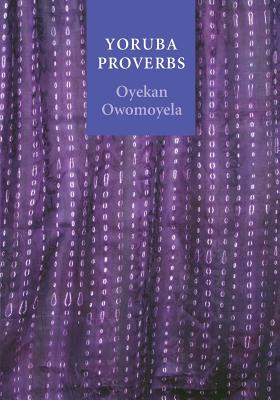 Yoruba Proverbs
This product is not returnable.
Publication Date:
May 1st, 2008
Publisher:
University of Nebraska Press
Usually Ships in 1 to 5 Days
Description
"The leopard's stealthy gait is not a result of cowardice; it is simply stalking a prey." (Do not mistake people's gentle nature for spinelessness.) "The rabbit that eats yams and enjoys them will return for more." (People remember good experiences and seek their repetition.) "The chicken sweats, but its down prevents us from knowing." (Everybody has his or her problems, although strangers may not guess.) "The mouth does not say, 'I ate once before.'" (Hunger is not something one assuages once and for all.) "It is a light rain that chases a child indoors; it is a raging torrent that shakes the raffia palm to its roots." (Every person, however lowly or mighty, has his or her nemesis.) Yoruba Proverbs is the most comprehensive collection to date of more than five thousand Yoruban proverbs that showcase Yoruba oral tradition. Following Oyekan Owomoyela's introduction, which provides a framework and description of Yoruba cultural beliefs, the proverbs are arranged by theme into five sections: the good person; the fortunate person (or the good life); relationships; human nature; rights and responsibilities; and truisms. Each proverb is presented in Yoruba with a literal English translation, followed by a brief commentary explaining the meaning of the proverb within the oral tradition. This definitive source book on Yoruba proverbs is the first to give such detailed, systematic classification and analysis alongside a careful assessment of the risks and pitfalls of submitting this genre to the canons of literary analysis.
Praise for Yoruba Proverbs
"Obviously aimed at the specialist, it nevertheless also offers the casual reader considerable rewards. It's not an inexpensive volume, but it's a bargain for what it, in many respects, a monumental achievement."—Complete Review
"When it comes to the correct usage of Yoruba proverbs, Mr. Owomoyela should know."—Chronicle of Higher Education
"This gigantic collection contains 5,235 Yoruba proverbs, their English translations, excellent brief annotations on usage and contexts, and a 38-page introduction! The tome also comes with a companion website . . . of even more proverbs. Readers will find in the book, preceded by two earlier proverb collections and one trickster tales compilation, a truly majestic culmination of Oyekan Owomoyela's four-decade long labor at constructing a formidable textual archive of Yoruba oral literatures. . . . The size of this collection . . . attests to Owomoyela's preeminence in proverb studies. The elephant of contemporary proverb scholarship has rustled the bush again, and only an incompetent liar or a malicious euphemist would report after perusing this book that he has merely 'caught a fleeting glimpse of something' in the forest of African proverb studies."—Adeleke Adeeko, Research in African Literatures