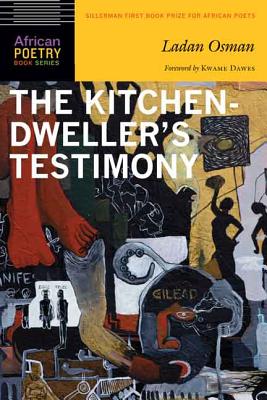 The Kitchen-Dweller's Testimony (African Poetry Book )
Publication Date:
April 1st, 2015
Publisher:
University of Nebraska Press
Usually Ships in 1 to 5 Days
Description
Winner of the Sillerman First Book Prize for African Poets, The Kitchen-Dweller's Testimony asks: Whose testimony is valid? Whose testimony is worth recording? Osman's speakers, who are almost always women, assert and reassert in an attempt to establish authority, often through persistent questioning. Specters of race, displacement, and colonialism are often present in her work, providing momentum for speakers to reach beyond their primary, apparent dimensions and better communicate. The Kitchen-Dweller's Testimony is about love and longing, divorce, distilled desire, and all the ways we injure ourselves and one another.
Praise for The Kitchen-Dweller's Testimony (African Poetry Book )
"In a world that too often plugs its ears to voices it thinks unworthy, Osman shows that it's actually more inappropriate to be decorous."—Kathleen Rooney, Chicago Tribune
"Ladan Osman conveys a language and logic that is disturbingly fresh; it leaps from one observation to another and speaks familiarly yet obliquely enough to make us listen a little harder."—Wesley Rothman, Rain Taxi
"I have rarely encountered a young poet whose work was so completely its own thing, was so little influenced by what trend might be elbowing itself forward on the writing campuses. Osman is a worldly and acutely sensitive writer who knows how to reach right through the sequined veil of fashion and put her hand squarely on the reader's heart, with frank and candid expression, with unaffected wonder."—from Ted Kooser's preface to Ladan Osman's chapbook, Ordinary Heaven
 
"[Ladan Osman] writes out of a passion for language, out of a compelling pleasure and challenge in the potential of the voice to humanize us, or perhaps even better, to affirm our humanity. Osman is a warrior poet, and she is dangerous because she is especially gifted and disciplined about her craft, her technical facility with the poem. This collection offers numerous examples of this skillfulness."—from the foreword by Kwame Dawes
"True visionary poets are very rare. Ladan Osman is one. What she sees is extraordinary, and needful."—Brigit Pegeen Kelly, author of Song and The Orchard