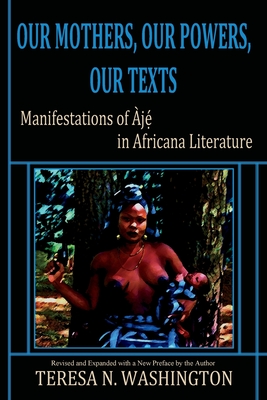 Our Mothers, Our Powers, Our Texts: Manifestations of Aje in Africana Literature
Publication Date:
December 23rd, 2015
Usually Ships in 1 to 5 Days
Description
"Washington writes supple and thoughtful prose and creatively integrates African and African-derived terminology, which never distract the reader. I consider Our Mothers, Our Powers, Our Texts not only a brilliant study, but also a model to be emulated." —Ousseynou B. Traore, William Patterson University
Àjé is a Yoruba word that signifies a spiritual power of vast potential, as well as the human beings who exercise that power. Although both men and women can have Àjé, its owners and controllers are women, the literal and cosmic Mothers who are revered as the gods of society. Because of its association with female power, its invisibility and profundity, Àjé is often misconstrued as witchcraft. However, as Teresa N. Washington points out in Our Mothers, Our Powers, Our Texts, Àjé is central to the Yoruba ethos and cosmology. Not only does it underpin the concepts of creation and creativity, but as a force of justice and retribution, Àjé is essential to social harmony and balance. As Africans were forced into exile and enslavement, they took Àjé with them and continued its work of creating, destroying, harming, and healing in the New World.
Washington seeks out Àjé's subversive power of creation and re-creation in a diverse range of Africana texts, from both men and women, from both oral and contemporary literature, and across space and time. She guides readers to an understanding of the symbolic, methodological, and spiritual issues that are central to important works by Africana writers but are rarely elucidated by Western criticism. She begins with an examination of the ancient forms of Àjé in Yoruba culture, which creates a framework for innovative readings of important works by Africana writers, including Zora Neale Hurston, Toni Morrison, Ben Okri, Wole Soyinka, Jamaica Kincaid, and Ntozake Shange. This rich analysis will appeal to readers of Africana literature, African religion and philosophy, feminist studies, and comparative literature.