Discounted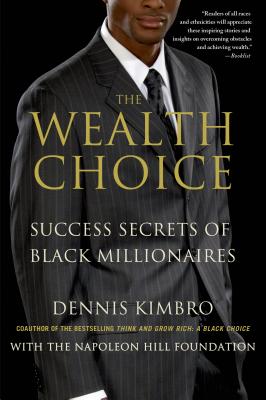 The Wealth Choice: Success Secrets of Black Millionaires
Previous price:

$20.00
Current price:

$18.99
Publication Date:
June 3rd, 2014
Publisher:
St. Martin's Griffin
Usually Ships in 1 to 5 Days
Description
Bestselling personal finance author Dennis Kimbro interviews prominent black millionaires to learn how they got where they are and offers key insights for those struggling to reach the next level.

It's no secret that these hard times have been even harder for the Black community.
Approximately 35 percent of African Americans had no measurable assets in 2009, and 24 percent of these same households had only a motor vehicle. Dennis Kimbro, observing how the weight of the continuing housing and credit crises disproportionately impacts the African-American community, takes a sharp look at a carefully cultivated group of individuals who've scaled the heights of success and how others can emulate them. Based on a seven year study of 1,000 of the wealthiest African Americans, The Wealth Choice offers a trove of sound and surprising advice about climbing the economic ladder, even when the odds seem stacked against you.
Readers will learn about how business leaders, entrepreneurs, and celebrities like Bob Johnson, Spike Lee, L. A. Reid, Herman Cain, T. D. Jakes and Tyrese Gibson found their paths to wealth; what they did or didn't learn about money early on; what they had to sacrifice to get to the top; and the role of discipline in managing their success. Through these stories, which include men and women at every stage of life and in every industry, Dennis Kimbro shows readers how to:
· Develop a wealth-generating mindset and habits
· Commit to lifelong learning
· Craft goals that match your passion
· Make short-term sacrifices for long-term gain
· Take calculated risks when opportunity presents itself
Praise for The Wealth Choice: Success Secrets of Black Millionaires
"Kimbro aims to empower, encourage and educate readers to rethink their relationships with money. Filled with good advice, this faith-based primer will cheer readers up and on." —Success Magazine
"A thoughtful, encouraging guide to creating a life that welcomes wealth." —Publishers Weekly
"Readers of all races and ethnicities will appreciate these inspiring stories and insights on overcoming obstacles and achieving wealth." —Booklist
"Dennis Kimbro deftly pinpoints the factors that create wealth, and more importantly, those that allow an individual to retain it. His comprehensive research has culminated in an inspiring, timely, and insightful work." —Dr. Randal Pinkett, Chairman and CEO of BCT Partners, Co-author of Black Faces in White Places
"Dr. Kimbro has crafted a radically fresh masterpiece that cogently articulates the instinct, spirit, and resolve of the Black Millionaire. This instructive and highly readable synthesis weaves together lucid gems of wisdom gleaned from a broad spectrum of experiences and sources, and should be required reading for anyone with even a faint desire to succeed. Every accomplished 'doer' utilizes the concepts in this book…but it took Dr. Kimbro to write them down for the rest of us. Pure genius!" —Valerie Daniels-Carter
"Very simply, The Wealth Choice is the only choice. After the long and storied history of civil rights, what we need most now is a new and relevant vision that shows how to make free enterprise and capitalism actually work for the poor. Dennis Kimbro is giving this generation and the next the password to future achievement in America, and beyond. I, for one, am with him." —John Hope Bryant, founder of Operation HOPE