Preorder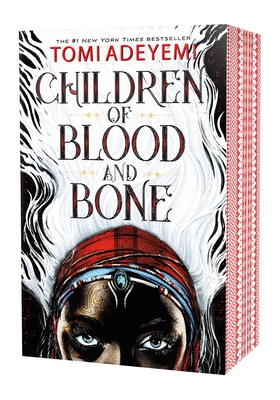 Children of Blood and Bone (Legacy of Orisha #1)
Publication Date:
February 27th, 2024
When Zelie was a child, she saw her mother and all magic wiped from existence with a tyrant's single, sweeping order. Now she finds herself tasked with restoring that magic to the land of Orisha, with the aid of her brother and that same tyrant's daughter. As Zelie races against time, she reckons with her newfound abilities and the moral complexities they awaken her to. Adeyemi's debut features truly epic world-building without sacrificing the intimate character development that propels the narrative. Every action combines taut pacing with lucid internal monologue, lending each work of magic or physical blow a palpable emotional weight. Stunning, cinematic, and resonant.
Spring 2018 Kids' Indie Next List
Description
Instant New York Times Bestseller
New York Times Notable Children's Books of 2018
TIME Top 10 Best YA and Children's Books of 2018
NPR's Book Concierge 2018 Great Reads List
Buzzfeed's 24 Best YA Books of 2018
Bustle's Top 25 Best Young Adults Books of 2018
2018 Kirkus Prize Finalist
YALSA William C. Morris YA Debut Award Finalist
Paste Magazine's 30 Best YA Novels of 2018
Newsweek's 61 Best Books from 2018
Boston Globe's Best Children's Books of 2018
Publishers Weekly Best YA Books of 2018
School Library Journal Best Books of 2018
With five starred reviews, Tomi Adeyemi's West African-inspired fantasy Legacy of Orïsha series debut, and instant #1 New York Times Bestseller, Children of Blood and Bone conjures a world of magic and danger, perfect for fans of Leigh Bardugo and Sabaa Tahir.
They killed my mother.
They took our magic.
They tried to bury us.
Now we rise.
Zélie Adebola remembers when the soil of Orïsha hummed with magic. Burners ignited flames, Tiders beckoned waves, and Zélie's Reaper mother summoned forth souls.
But everything changed the night magic disappeared. Under the orders of a ruthless king, maji were killed, leaving Zélie without a mother and her people without hope.
Now Zélie has one chance to bring back magic and strike against the monarchy. With the help of a rogue princess, Zélie must outwit and outrun the crown prince, who is hell-bent on eradicating magic for good.
Danger lurks in Orïsha, where snow leoponaires prowl and vengeful spirits wait in the waters. Yet the greatest danger may be Zélie herself as she struggles to control her powers and her growing feelings for an enemy.
"A phenomenon." —Entertainment Weekly
"The epic I've been waiting for." —New York Times-bestselling author Marie Lu
"You will be changed. You will be ready to rise up and reclaim your own magic!" —New York Times-bestselling author Dhonielle Clayton
"The next big thing in literature and film." —Ebony
"One of the biggest young adult fiction debut book deals of the year." —Teen Vogue
This title has Common Core connections.
Praise for Children of Blood and Bone (Legacy of Orisha #1)
New York Times Notable Children's Books of 2018
TIME Top 10 Best YA and Children's Books of 2018
NPR's Book Concierge 2018 Great Reads List
Bustle's Top 25 Best Young Adults Books of 2018
2018 Kirkus Prize Finalist
Paste Magazine's 30 Best YA Novels of 2018
Newsweek's 61 Best Books from 2018
Boston Globe's Best Children's Books of 2018
Publishers Weekly Best YA Books of 2018
School Library Journal Best Books of 2018
Chicago Public Library Best Books of 2018
New York Public Library Top Ten Showstopper Favorite of 2018 (Notable 100 Books for Kids)
A TAYSHAS 2019 Reading List Pick
2019 YALSA Best Fiction Pick
"A magnificent, heartrending, earthshaking debut." —New York Times-bestselling author Daniel José Older
"High stakes, a captivating fantasy landscape, and a brave heroine worth rooting for make Children of Blood and Bone unlike anything I've ever read." —Kami Garcia, #1 New York Times bestselling co-author of Beautiful Creatures and author of The Lovely Reckless
"Powerful, captivating, and raw—Adeyemi is a talent to watch. Exceptional." —Kirkus, Starred Review
"Adeyemi's devastating debut is a brutal, beautiful tale of revolution, faith, and star-crossed love." —Publishers Weekly, Starred Review
"... Adeyemi keeps it fresh with an all-black cast of characters, a meaningful emphasis on fighting for justice, a complex heroine saving her own people, and a brand of magic made more powerful by the strength of heritage and ancestry. Perfect for fans of the expansive fantasy worlds of Leigh Bardugo, Daniel Jose´ Older, and Sabaa Tahir." —Booklist, Starred Review
"...A refreshing YA fantasy with an all–West African cast of characters that should be on every shelf." —School Library Journal, Starred Review
"This is an exceptional debut from the author and will have a huge audience desperately waiting for more. Children of Blood and Bone is perfect for fans of Nnedi Okorafor, Nancy Farmer, and Angie Thomas." —VOYA, Starred Review
"Nigerian culture and geography... give this fantasy a distinct flavor, further distinguished by the intensity of emotion." —Horn Book

"Meet Tomi Adeyemi—the new J.K. Rowling. (Yep, she's that good)." —Entertainment Weekly
"Poses thought-provoking questions about race, class and authority that hold up a warning mirror to our sharply divided society." –The New York Times
"A fast-paced, excellently crafted hero's journey…populated with compelling and nuanced black characters." –NPR
"A debut novel that is nearly impossible to put down."–USA Today
"Adeyemi's writing is beautiful and immersive." –Tor.com

"A miraculous achievement." –The Guardian