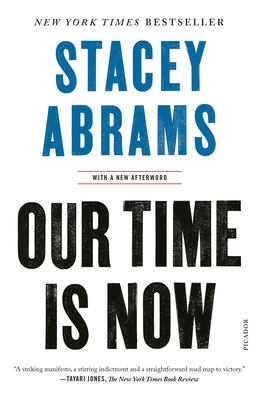 Our Time Is Now: Power, Purpose, and the Fight for a Fair America
Publication Date:
June 8th, 2021
Usually Ships in 1 to 5 Days
Description
From New York Times bestselling author of Lead From The Outside and political leader Stacey Abrams, a blueprint to end voter suppression, empower our citizens, and take back our country.
"With each page, she inspires and empowers us to create systems that reflect a world in which all voices are heard and all people believe and feel that they matter." —Kerry Washington
A recognized expert on fair voting and civic engagement, Abrams chronicles a chilling account of how the right to vote and the principle of democracy have been and continue to be under attack. Abrams would have been the first African American woman governor, but experienced these effects firsthand, despite running the most innovative race in modern politics as the Democratic nominee in Georgia. Abrams didn't win, but she has not conceded. The book compellingly argues for the importance of robust voter protections, an elevation of identity politics, engagement in the census, and a return to moral international leadership.
Our Time Is Now draws on extensive research from national organizations and renowned scholars, as well as anecdotes from her life and others' who have fought throughout our country's history for the power to be heard. The stakes could not be higher. Here are concrete solutions and inspiration to stand up for who we are—now.
"This is a narrative that describes the urgency that compels me and millions more to push for a different American story than the one being told today. It's a story that is one part danger, one part action, and all true. It's a story about how and why we fight for our democracy and win." - Stacey Abrams
Praise for Our Time Is Now: Power, Purpose, and the Fight for a Fair America
A People Magazine Book of the Week

"Our Time Is Now is not a political memoir or a long-form résumé; rather, it is a striking manifesto, a stirring indictment and a straightforward road map to victory...She portrays her constituents and their concerns in such a way that they feel more actual than symbolic, more individual than indicative. When she turns her gaze onto her family, her narrative gifts are in full flower."—Tayari Jones, The New York Times Book Review

"Stacey Abrams's powerful, deeply moving book shines a bright light on the ongoing attacks on the sacred, constitutional right to the ballot. Stacey provides everyday Americans and political leaders alike with the tools that are urgently needed to confront and defeat the forces that seek to deny Americans their voice in our democracy. The right to vote is the foundation of our freedom and a key pillar of our democracy, and we must all fight to ensure that all Americans have a say in their nation's future." —Nancy Pelosi, Speaker of the United States House of Representatives
"The tensions between patience and urgency, between fear and resolve, between the promise of someday and the demands of right now, are at the heart of Our Time Is Now. Abrams covers plenty of territory—identity politics, voting rights, and the frustrations and revelations of her gubernatorial race but above all, she writes about the grinding work required to make real the compact of democratic participation." —The Washington Post
"Stacey Abrams's Our Time Is Now outlines a dynamic blueprint for how each of us can reshape the future of our democracy. Her ability to rise above her own political struggles and transform her learned experience into a saving grace for marginalized communities is breathtaking. With each page, she inspires and empowers us to create systems that reflect a world in which all voices are heard and all people believe and feel that they matter." —Kerry Washington

"A detailed exposé of how our democracy has been eroded—and a plan to fix it—from an up-and-coming national leader. If you are feeling hopeless about politics, this well-informed blueprint for change may begin to restore your faith." —Kirkus Reviews, *starred review*
"No one understands the dangers or realities of voter suppression quite like Abrams. Her expertise and passion for the rights of underrepresented people should be igniting to anyone who cares about democracy. Sign me up for the future that Stacey Abrams envisions." —Hasan Minaj, host of "The Patriot Act"

"[Abrams'] practical approach is inspiring, even comforting, in the current moment." —People
"From climate change to income inequality, voter suppression is threatening to undermine the most important issues facing our country today. This book is a must read for anyone who wants to see our democracy reflect the will of all people, and not just the will of America's most privileged." —Issa Rae, writer and producer
"For a nation in the throes of a pandemic and wracked by four years of polarized politics, this is an important and timely book." —Booklist, *starred review*
"Stacey Abrams is not only a passionate advocate of democracy, but also an inspiring example of how to practice it. In Our Time Is Now, she exposes systematic voter suppression efforts across America, and tells us what we need to do to fight back. This book is an essential toolkit for citizens of all backgrounds who believe, as I do, that democracy is not a spectator sport." —Madeleine K. Albright, former United States Secretary of State
"Following her historic run for Governor of Georgia in 2018, Stacey Abrams led a nationwide effort to empower and enfranchise voters to participate in our democratic process. With Our Time is Now, she's now set out a comprehensive roadmap for engaging those voters, tearing down barriers to participation, and making our democracy live up to its highest ideals." —Julian Castro, former Secretary of Housing and Urban Development
"[An] impassioned and carefully researched account…Blending personal history, statistical analysis, and detailed policy proposals, Abrams presents a persuasive, if wonkish, argument that any progressive legislative agenda must begin with voting reform. Liberals will be inspired." —Publishers Weekly
"Stacey Abrams's new book isn't a traditional political memoir…[it's] an in-depth history of voting rights in this country and an analysis of what the future may hold if lawmakers fix voter suppression nationwide—or if they do not."—Fortune