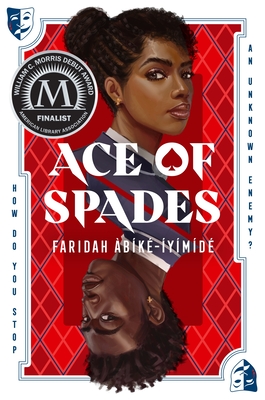 Ace of Spades
Publication Date:
June 1st, 2021
Publisher:
Feiwel & Friends
Usually Ships in 1 to 5 Days
Ace of Spades was such a wonderful and thrilling read. Perfect for fans of authors Karen McManus and Courtney Summers, and the perfect mix of Pretty Little Liars and Gossip Girl turned deadly. Ace of Spades goes in depth into the politics of systemic racism at an educational level, social eugenics and economic barriers for Black students. I could not put this book down, and I cannot wait to share this book with our customers. This is the YA thriller of the year, hands down and no question about it.
May/June 2021 Kids Indie Next List
Description
Gossip Girl meets Get Out in Ace of Spades, a YA contemporary thriller by debut author Faridah Àbíké-Íyímídé about two students, Devon & Chiamaka, and their struggles against an anonymous bully.
All you need to know is . . . I'm here to divide and conquer. Like all great tyrants do. —Aces
When two Niveus Private Academy students, Devon Richards and Chiamaka Adebayo, are selected to be part of the elite school's senior class prefects, it looks like their year is off to an amazing start. After all, not only does it look great on college applications, but it officially puts each of them in the running for valedictorian, too.
Shortly after the announcement is made, though, someone who goes by Aces begins using anonymous text messages to reveal secrets about the two of them that turn their lives upside down and threaten every aspect of their carefully planned futures.
As Aces shows no sign of stopping, what seemed like a sick prank quickly turns into a dangerous game, with all the cards stacked against them. Can Devon and Chiamaka stop Aces before things become incredibly deadly?
With heart-pounding suspense and relevant social commentary comes a high-octane thriller from debut author Faridah Àbíké-Íyímídé.
Praise for Ace of Spades
2022 NAACP Image Award Winner for Outstanding Literary Work - Youth/Teens
2022 William C. Morris Award Finalist
2022 Edgar Award Nominee for Best Young Adult
A Junior Library Guild Selection
A YALSA 2022 Best Fiction for Young Adults Finalist
An Amazon Best Book of 2021
A School Library Journal Best Young Adult Book, 2021
A BuzzFeed Best YA Book Covers Of 2021
A Boston Globe Best Book of 2021
An Autostraddle Best Queer Book of 2021
A The Young Folks Best Book Debut of 2021

"Àbíké-Íyímídé excels in portraying the conflict of characters who exist in two worlds...Devon and Chiamaka are dynamic and multifaceted, deeply human in the face of Aces' treatment." —Publishers Weekly, starred review
"Readers will love this thriller-mystery... A revelatory, buzzworthy debut." —School Library Journal, starred review
"Told in alternating chapters that capture each character's unique voice and personality, Àbíké-Íyímídé's adeptly crafted debut brings to life an unforgettable thriller that fuses intricate world building with compelling character development." —Booklist

"Ace of Spades is a clever thriller that, just as you think you've got it figured out, pulls the rug out from under you. What makes the twist all the more chilling is its plausibility. Debut author Faridah Ábíké-Íyímídé is a revelation, her protagonists -- Chiamaka and Devon -- are wonderfully captivating and nuanced. And her epilogue is the best I've ever read. This is one magnificent debut!" —Angeline Boulley, New York Times-bestselling author of Firekeeper's Daughter

"Faridah Àbíké-Íyímídé is an absolute artist of crafting tension and suspense. Ace of Spades will leave readers tearing through chapters, desperate to see what happens next. Packed with killer twists that gave me goosebumps, Ace of Spades is a phenomenal debut here to knock you off your feet and send your heart racing." —Aiden Thomas, New York Times-bestselling author of Cemetery Boys
"Every so often a book comes along that perfectly captures the strength and resilience it takes to survive the visceral terror of being a Black person trying to thrive in a society designed to destroy you. Ace of Spades is that book." —Roseanne A. Brown, New York Times-Bestselling author of A Song Of Wraiths and Ruin
"Not only is this page-turner full of drama, mystery, and intrigue, the salient presence and expert handling of marginalization and complex social dynamics left me not only titillated, but full to the brim and fired up to continue the good fight. ACE OF SPADES is the thought-provoking thriller we ALL need." —Nic Stone, #1 New York Times-Bestselling author of Dear Martin
"Àbíké-Íyímídé deftly reimagines the prep school thriller in this positively suspenseful takedown of institutional racism, homophobia and classism. ACE OF SPADES manages to empower and infuriate while also being just a whole lot of genre-blending fun." —Christina Hammond Reeds, New York Times bestselling author of The Black Kids

"Thunderous and terrifying. There's no way you're putting this down until you get to the last page." — Maureen Johnson, #1 New York Times-bestselling author of Truly Devious
"Àbíké-Íyímídé's stunningly brilliant thriller weaves teen drama, thriller, and protest novel in a story like you've never seen before. A complete game changer." —Camryn Garret, author of Full Disclosure

"Harrowing, breathtaking, and entirely unputdownable, Ace of Spades will linger long after you've read the final page." —Marieke Nijkamp, bestselling author of This Is Where It Ends
"Spine-tingling, full of twists and turns, Ace of Spades is a thriller that'll knock you off your feet. Undoubtedly the best thriller of 2021, Ace of Spades keeps you guessing, and leaves you wanting more." —Namina Forna, New York Times-Bestselling author of The Gilded Ones
"A fast-paced, edge-of-your seat thriller that's part dark-academia, part chilling mystery, and wholly, beautifully queer. This book is for those who enjoy thrillers that sneak up on them and encompass them with an inescapable, heart-pounding dread. Àbíké-Íyímídé's debut is captivating, nuanced and brilliant, and definitely not one to be missed!"—Sophie Gonzales, author of Only Mostly Devastated