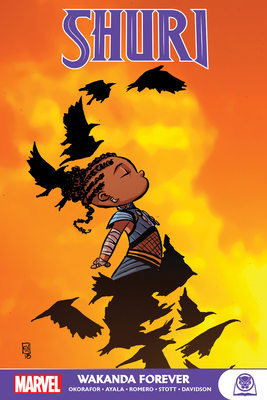 SHURI: WAKANDA FOREVER
Publication Date:
November 24th, 2020
Publisher:
Outreach/New Reader
Usually Ships in 1 to 5 Days
Description
Collects Shuri (2018) #1-10. The Black Panther's techno-genius sister stars in her own incredible adventures! T'Challa has disappeared, and Wakanda expects Shuri to lead their great nation in his absence! But she's happiest in a lab surrounded by her inventions. She'd rather be testing gauntlets than throwing them down! So it's time for Shuri to rescue her brother yet again - with a little help from Storm, Rocket Raccoon and Groot! But what happens when her outer-space adventure puts Africa at risk from an energy-sapping alien threat? Then, Shuri heads to America to investigate a lead, with Ms. Marvel and Miles "Spider-Man" Morales along for the ride! But with her people in peril, will Shuri embrace her reluctant destiny and become the Black Panther once more? Prepare for a hero like you've never seen before!