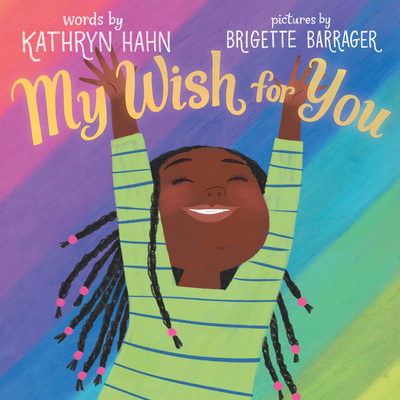 My Wish for You
Publication Date:
May 17th, 2022
Publisher:
Cartwheel Books
Usually Ships in 1 to 5 Days
Description
A poignant, fierce reflection on the power and spirit of girls and girls-at-heart from celebrated actress Kathryn Hahn and New York Times bestselling illustrator Brigette Barrager.
My wishes for you are many. But the top of the wishes: I want you to be you. And wherever you go, I hope you will always remember the YOU that you are right now.
Inspired by the everyday life lessons of raising her own six-year-old daughter, author and actress Kathryn Hahn creates a heartfelt and touching meditation on the inherent power every girl has deep inside herself. Here is a timely and necessary message of the intrinsic importance of being who you are, no matter what the world tells you. To be curious, strong, and vulnerable. To live life on your own terms. To always look for that sparkle!
With moving illustrations by New York Times bestselling artist Brigette Barrager and a personal letter to readers, My Wish for You is an empowering gift for grandmothers and mothers, daughters and friends, to treasure and cherish for years to come, now in board book format!
Praise for My Wish for You
"An affirming, empowering text with accompanying illustrations that charm ... hopeful, playful girlhood guidance." -- Kirkus
Advance Praise for My Wish for You:"This gorgeous book is a must-read for parents and kids of all genders and ages. Hahn's words remind us that childhood is magic, and that love is the light." -- Jill Soloway
"Hahn: the voice of a new generation of punk rock children's authors. How lucky for Earth!" -- Sia
"Kathryn Hahn's wishes for her daughter are the perfect gift for any girl, 6 or 61. May we all follow her lead and catch all the sparkles with our big, big feelings." -- Lena Dunham
"I didn't have a book like this when I was a girl. But luckily I have it now." -- Karyn Kusama
"What a perfect time to remind girls to be exactly who they are and to celebrate that very thing. Hahn uses simple ideas to plant the seeds of empowerment. I can't think of a grown-up who also couldn't use the reminder." -- Jenni Konner
"Kathryn Hahn glimpses freedom: an unselfconscious confidence we need never grow out of, and a freedom that even the most jaded among us can hope to reclaim." -- Chris Kraus
"In this world full of judgment and criticism, we could all use an invitation to love ourselves. Just the way we are." -- Erica Oyama
"Kathryn captures the truest meaning of child-like with a breath of fresh air." -- Mila Kunis
"This book lets us all have a small piece of [Kathryn's] beautiful spirit and a way to share it with our little ones." -- Amy Landecker
"I can't think of anyone better to remind us all to be our whole, wild, wonderful, silly, big feeling selves than Kathryn Hahn, whose very presence is an inspiring reminder to get real and have fun doing it." -- Gaby Hoffmann
"I fervently wish I had read something like this 65 years ago. A true life-changer. It is never too late to adopt many of these lessons, and I plan to do so." -- Karen 'Mombo' Hahn