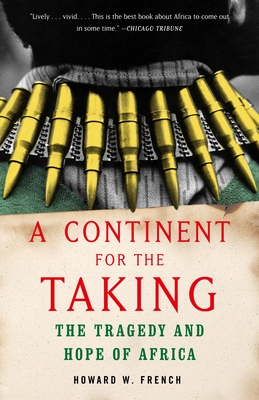 A Continent for the Taking: The Tragedy and Hope of Africa
Publication Date:
April 12th, 2005
Description
In A Continent for the Taking Howard W. French, a veteran correspondent for The New York Times, gives a compelling firsthand account of some of Africa's most devastating recent history–from the fall of Mobutu Sese Seko, to Charles Taylor's arrival in Monrovia, to the genocide in Rwanda and the Congo that left millions dead. Blending eyewitness reportage with rich historical insight, French searches deeply into the causes of today's events, illuminating the debilitating legacy of colonization and the abiding hypocrisy and inhumanity of both Western and African political leaders.
While he captures the tragedies that have repeatedly befallen Africa's peoples, French also opens our eyes to the immense possibility that lies in Africa's complexity, diversity, and myriad cultural strengths. The culmination of twenty-five years of passionate exploration and understanding, this is a powerful and ultimately hopeful book about a fascinating and misunderstood continent.
Praise for A Continent for the Taking: The Tragedy and Hope of Africa
"Lively . . . vivid . . . This is the best book about Africa to come out in some time." –Chicago Tribune
"An often riveting eyewitness account of the chaos enveloping West Africa in the 1990s." –San Francisco Chronicle

"Vivid, disquieting. . . . French's engagement with the continent goes far deeper than most Africa-based correspondents." –Washington Monthly
"Remarkable. . . . This deeply empathetic account of a region in crisis deserves to be read widely." –Foreign Affairs
"[French's] skill as a writer — in particular his telling anecdotes, fascinating historical narratives and prescriptions for a complex continent he clearly loves — is compelling. . . . He succeeds brilliantly in helping readers understand the continent and its people." –The Globe & Mail (Toronto)
"Exhilarating for its frankness. . . . A triumph of passionate reporting." –The New York Review of Books

"A passionate, heartbreaking, and ultimately heartbroken book. . . . [French] has a deeper and more profound connection to the continent than most journalists." –The Nation

"A brilliant and nuanced meditation on the complexities of contemporary Africa. Essential reading for those of us who live Africa and for all those who wish to gain a fuller understanding of a continent that is sprawling, mysterious, and endlessly fascinating. Howard French's voice is both fresh and enlightening."–Henry Louis Gates, Jr.
"Persuasive. . . . The tone is grim, but French also finds an unquenchable African spirit." –The Washington Post Book World

"Even when you've been there or know the basic facts, Howard French takes you to Africa in a way you've never been taken before. His superb writing, his keen insight and passion-driven analysis combine to make A Continent for the Taking a great read for those who find the continent as fasinating as he does, as well as for those who need to know why we do." –Charlayne Hunter Gault , author of In My Place

"French gives us the context necessary to understand Africa's current problems. . . . Broad-ranging. . . . Passionate." –American Prospect

"French's great advantage in telling his tale is his depth of perspective. . . . Rare is the book on Africa that gets passed around among policymakers in Washington–we can only hope this becomes one of them."–St. Petersburg Times
"Many Western narratives tend to exonerate the West for Africa's seemingly endless woes, placing blame squarely on the continent. Some African accounts tend to blame the West entirely. Howard French strikes the right balance, showing that Africa's ills are rooted in internal and external factors but which are clearly linked."–Ngugi wa Thiong'o, author of Weep Not, Child

"A harrowing picture of a continental catastrophe." –Hartford Courant