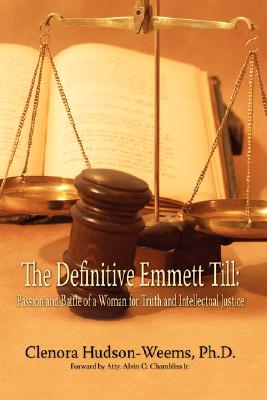 The Definitive Emmett Till: Passion and Battle of a Woman for Truth and Intellectual Justice
This product is not returnable.
Publication Date:
June 22nd, 2006
Description
I met Dr. Clenora Hudson-Weems in D. C. at the National Ford Annual Conference in 1987. She was one of the plenary speakers, rendering a most eloquent and engaging slide presentation on her groundbreaking thesis of Till as catalyst of the civil rights movement. It was astounding; I remember it as though it were yesterday. Clenora's work resonates with me to this day. At that moment, she resurrected and established Till as the beginning of the Movement. Later, shortly before completing the Ph.D. in May 1988, she began communicating with Emmett's mother, Mamie Till Mobley and encouraging her to seek justice for her son's brutal murder. Thus anyone who lays claim to exhuming the Till saga before Dr. Hudson-Weems demands to be questioned. - Dr. William Turner, Vice Pres; Assoc. Provost, U. of KY It is the responsibility of all writers to cite the research and writings of those who come before them. In a world where credit is often given to mediocrity, we can ill afford to ignore the work of the scholars who pave the way for us to craft story. Hudson-Weems' Till writings are clearly the first full length studies to establish the lynching of this martyr as the true catalyst for the Modern Civil Rights Movement. Hence, anyone writing after her on this subject has the responsibility to not only know the source but to cite her work as well. To not do this or to claim ignorance of her work is an obvious sign of fraud, inferior research, or arrogance. - Evelyn Coleman, Award-Winning Author of What a Woman's Gotta Do For nearly 20 years, Hudson-Weems was the lone voice calling for a fresh assessment of the true historical significance of the murder of Emmett Till. That voice has lately been joined by a host of others, but there is disharmony in the choir. The de facto failure to credit, let alone acknowledge, both her pioneering work and her rightful place as the preeminent Till scholar is more than intellectual theft; it is personal grand larceny. The truth needs to get out that the real authority about Emmett's story is Clenora. When someone's dedicated his or her life, and mined the subject as much as Clenora has, her name needs to be connected with what she's done. Further, my own effort to assist Clenora in realizing her dream of producing a motion picture based on her research and vision of racial healing through redemption has also been compromised by this sudden rash of Till "experts." Modern day pirates beware; legions stand between you and your greed. With the support of her many friends, colleagues, and true believers, Dr. Hudson-Weems' unique voice will not be lost in the present cacophony, nor will her impersonators go unchallenged. - Barry Morrow, Oscar Award-Winning Co-Writer for Rain Man; Producer.