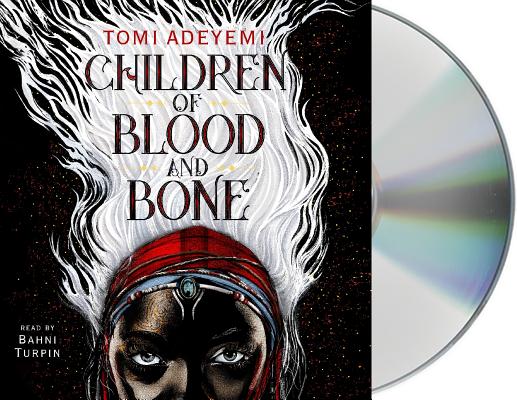 Children of Blood and Bone (Legacy of Orisha #1)
Publication Date:
March 6th, 2018
Publisher:
Macmillan Young Listeners
When Zelie was a child, she saw her mother and all magic wiped from existence with a tyrant's single, sweeping order. Now she finds herself tasked with restoring that magic to the land of Orisha, with the aid of her brother and that same tyrant's daughter. As Zelie races against time, she reckons with her newfound abilities and the moral complexities they awaken her to. Adeyemi's debut features truly epic world-building without sacrificing the intimate character development that propels the narrative. Every action combines taut pacing with lucid internal monologue, lending each work of magic or physical blow a palpable emotional weight. Stunning, cinematic, and resonant.
Spring 2018 Kids' Indie Next List
Description
*Winner of the Audie Award for Audiobook of the Year*
*This program is narrated by acclaimed reader Bahni Turpin, whose past work includes The Hate U Give and The Underground Railroad*
"Bahni Turpin's breathtaking narration of this exhilarating novel will keep listeners rooted to their seats, listening intently...an audiobook not to be missed." — AudioFile Magazine, Earphones Award winner
In Children of Blood and Bone, Tomi Adeyemi conjures a stunning world of dark magic and danger in her West African-inspired fantasy debut.
They killed my mother.
They took our magic.
They tried to bury us.
Now we rise.
Zélie Adebola remembers when the soil of Orïsha hummed with magic. Burners ignited flames, Tiders beckoned waves, and Zélie's Reaper mother summoned forth souls.
But everything changed the night magic disappeared. Under the orders of a ruthless king, maji were killed, leaving Zélie without a mother and her people without hope.
Now Zélie has one chance to bring back magic and strike against the monarchy. With the help of a rogue princess, Zélie must outwit and outrun the crown prince, who is hell-bent on eradicating magic for good.
Danger lurks in Orïsha, where snow leoponaires prowl and vengeful spirits wait in the waters. Yet the greatest danger may be Zélie herself as she struggles to control her powers—and her growing feelings for an enemy.
Praise for Children of Blood and Bone:
"[Narrator Bahni Turpin] excels at customizing her voice to capture the unique personalities of each character...This excellent, refreshing performance of Adeyemi's exciting debut is recommended for all collections where fantasy is popular" — Booklist, Starred Review
"One of the biggest young adult fiction debut book deals of the year. Aside from a compelling plot and a strong-willed heroine as the protagonist, the book deals with larger themes, like race and power, that are being discussed in real time."—Teen Vogue
Praise for Children of Blood and Bone (Legacy of Orisha #1)
2019 Audie Award, Audiobook of the Year
Libro.fm Top 10 Audiobooks of 2018
AudioFile Best 5 Young Adult Audiobooks of 2018
2019 YALSA Amazing Audiobook
2019 ALSC Notable Children's Recording
AudioFile Earphones Award Winner
Booklist Starred Audiobook Review
Publishers Weekly Starred Audiobook review
2019 Audie Award, Young Adult, Nominated

"Bahni Turpin's breathtaking narration of this exhilarating novel will keep listeners rooted to their seats, listening intently. ...Turpin's captivating narration, with incantations sung in Yoruba, intense battles, and lively, devastating dialogue, makes this an audiobook not to be missed." -AudioFile, Earphones Award Winner
"Talented narrator [Bahni] Turpin's reading amplifies Adeyemi's creativity and attention to detail. Through her authentic pronunciations and musical chants, she immerses listeners in the Orïshan culture and fantasy realm and allows characters' powerful emotions to drive the book's action...This excellent, refreshing performance of Adeyemi's exciting debut is recommended for all collections where fantasy is popular." -Booklist, Starred Review
"[Bahni] Turpin's bold reading of Adeyemi's Afro-futurist fantasy solidifies her reputation as one of the best voice actors working today. ...Turpin's sonorous incantation of prayers, as well as her brisk pacing during exciting moments of danger, will have listeners on the edge of their seats. Her depiction of the king's rage is also downright terrifying, as Turpin is unafraid to roar. Her hypnotic performance is one to be reckoned with." -Publishers Weekly, Starred Review