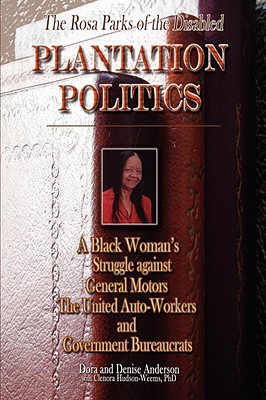 The Rosa Parks of the Disabled Movement: Plantation Politics and a Black Woman's Struggle Against GM, UAW and Government Bureaucrats
This product is not returnable.
Publication Date:
May 6th, 2008
Usually Ships in 1 to 5 Days
Description
The Andersons have committed themselves to a 20-year struggle to address wrongs that Denise suffered while employed at GM. Hired in 1982, under the 1973 Rehabilitation Act, a predecessor of the 1990 ADA, she suffered an on-the-job injury, but was disallowed to return to work after her medical release. Their journey was financially & emotionally costly, pursuing redress thru the federal courts, EEOC & the union. The book presents violations of the human/civil rights of a disabled American citizen. It is a testament to the strength & endurance of the Andersons. Dora Anderson, "The Rosa Parks of the Disabled Movement," has become the symbol for the supporter of the American disabled citizen. Endorsers Americans love an "underdog" story, even more, a happy ending, which is so glaringly absent in the Anderson book. The intent of the ADA was to balance the scales of opportunity, but as their saga reveals, those scales are badly tilted. They have been thru too much now to expect a happy ending, but a just one can still be written. All it takes is a nation that prizes the opportunity to do the right thing. Barry Marrow, Oscar Award-Winning Co-Writer for Rain Man & Producer "The Union" has played a key role in the economic life of the American working class. This book highlights the growing patterns of certain "union boses" sacrificing their rank & fiile on the alter of survival & political access, forcing a confrontation. At a time when unions need a stronger member driven leadership, we are in a sensitive moment when the real uniion leadership, the workers, must make their presence known & ensure the future of a much needed source of political strength & economic power in working class communities across the country. Odette Machado, Pres., Health/Humanitarian Employees Alliance Rights & Trades.