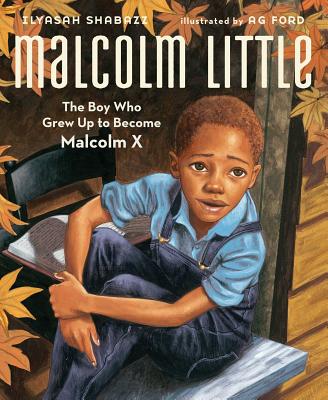 Malcolm Little: The Boy Who Grew Up to Become Malcolm X
Publication Date:
January 7th, 2014
Publisher:
Atheneum Books for Young Readers
Usually Ships in 1 to 5 Days
Description
Malcolm X grew to be one of America's most influential figures. But first, he was a boy named Malcolm Little. Written by his daughter, this inspiring picture book biography celebrates a vision of freedom and justice.
Bolstered by the love and wisdom of his large, warm family, young Malcolm Little was a natural born leader. But when confronted with intolerance and a series of tragedies, Malcolm's optimism and faith were threatened. He had to learn how to be strong and how to hold on to his individuality. He had to learn self-reliance.
Together with acclaimed illustrator AG Ford, Ilyasah Shabazz gives us a unique glimpse into the childhood of her father, Malcolm X, with a lyrical story that carries a message that resonates still today—that we must all strive to live to our highest potential.
Praise for Malcolm Little: The Boy Who Grew Up to Become Malcolm X
"The childhood of the controversial African-American activist was shaped by parental love and white racism.
Writing with the fervor and intensity of a motivational speaker, Shabazz recounts her father's early years, which were filled with the loving support and teachings of his parents as well as the hate and destruction of the Ku Klux Klan.... With the passion of a preacher, she celebrates love, respect, tolerance and education without restraint.... Ford's oil paintings, framed on the page, are lush and filled with detail.
A daughter's proud...tribute to her father and his parents."
— Kirkus Reviews, November 2013
"Shabazz (Growing Up X) pays affectionate tribute to her father, Malcolm X, and his parents in this account of the activist's childhood.... Shabazz relays...Malcolm's resolve to succeed and remain true to his parents' values after he loses his father "to the brute force of racism and the narrow-mindedness of the Ku Klux Klan," and his mother is deemed "no longer fit to care for her children." Ford's (My Daddy, Dr. Martin Luther King, Jr.) oil paintings render joyous and desolate moments with equal skill."
— Publishers Weekly, October 2013
"The author of this handsome, inspirational offering is Malcolm X's daughter–an educator, activist, and motivational speaker. . . . Ford's oil paintings are accomplished and historically accurate."
— School Library Journal, January 2014
"Before he became the black nationalist leader known as Malcolm X , Malcolm Little was a boy who loved fishing and butterflies. His daughter, Ilyasah Shabazz, aided by AG Ford's vivid paintings, outlines a childhood marked by love and tragedy."
— Usa Today, February 2014