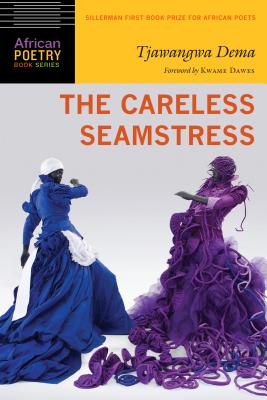 The Careless Seamstress (African Poetry Book )
Publication Date:
March 1st, 2019
Publisher:
University of Nebraska Press
Usually Ships in 1 to 5 Days
Description
This dazzling debut announces a not-so-new voice: that of the spoken-word poet Tjawangwa Dema. Winner of the Sillerman First Book Prize for African Poets, Dema's collection, The Careless Seamstress, evokes the national and the subjective while reemphasizing that what is personal is always political.
The girls and women in these poems are not mere objects; they speak, labor, and gaze back, with difficulty and consequence. The tropes are familiar, but in their animation they question and move in unexpected ways. The female body—as a daughter, wife, worker, cultural mutineer—moves continually across this collection, fetching water, harvesting corn, raising children, sewing, migrating, and spurning designations.
Sewing is rendered subversive, the unsayable is weft into speech and those who are perhaps invisible in life reclaim their voice and leave evidence of their selves. As a consequence the body is rarely posed—it bleeds and scars; it ages; it resists and warns. The female gaze and subsequent voices suggest a different value system that grapples with the gendering of both physical and emotional labor, often through what is done, even and especially when this goes unnoticed or unappreciated.
A body of work that examines the nature of power and resistance, The Careless Seamstress shows both startling clarity of purpose and capaciousness of theme. Using gender and labor as their point of departure, these poems are indebted to Dema's relationship to language, intertextuality, and narrative. It is both assured and inquiring, a quietly complex skein that takes advantage of poetry's capacity for the polyphonic.
Praise for The Careless Seamstress (African Poetry Book )
"With a natural approach to the physicality of her characters' lives and struggles, Botswanan poet Tjawangwa Dema uses her work to explore large questions of gender, identity and labor. The pieces in The Careless Seamstress live at the intersection of these themes, showing how one moment or action brilliantly encapsulates the whole."—Noah Cruickshank, Shelf Awareness starred review
"Tjawangwa Dema's poems are as bold, roving, and insistent as they are delicate and incisive. The Careless Seamstress is a ravishing debut."—Tracy K. Smith, U.S. poet laureate and author of Wade in the Water: Poems
"These poems open the archive of identity and the mysteries of the body at one and the same time. In richly embossed detail, events, lost evenings and the erotics of history are unveiled. In these narratives, a young woman's life moves between danger and custom: her body knows silence is a language/ any woman can learn to speak. This work brings the reader to new places and age-old insights. These are moving, eloquent and compelling poems."—Eavan Boland, author of A Woman Without a Country: Poems