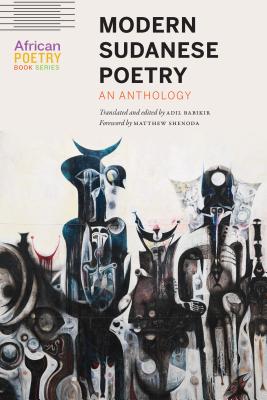 Modern Sudanese Poetry: An Anthology (African Poetry Book )
Publication Date:
September 1st, 2019
Publisher:
University of Nebraska Press
Usually Ships in 1 to 5 Days
Description
Spanning more than six decades of Sudan's post-independence history, this collection features work by some of Sudan's most renowned modern poets, largely unknown in the United States. Adil Babikir's extensive introduction provides a conceptual framework to help the English reader understand the cultural context. Translated from Arabic, the collection addresses a wide range of themes—identity, love, politics, Sufism, patriotism, war, and philosophy—capturing the evolution of Sudan's modern history and cultural intersections.
Modern Sudanese Poetry features voices as diverse as the country's ethnic, cultural, and natural composition. By bringing these voices together, Babikir provides a glimpse of Sudan's poetry scene as well as the country's modern history and post-independence trajectory. 
 
Praise for Modern Sudanese Poetry: An Anthology (African Poetry Book )
"No list of writing from Sudan would be complete without poetry, and this is a well overdue collection. The excellent selections cover the last six decades and include most of the classical names such as Mohammed Abdul-Hayyand Mahjoub Sharif, as well as some of the younger writers working today. It fills a yawning gap and, hopefully, will inspire others to pursue the same course."—Jamal Mahjoub, The Guardian
 
"This is an unprecedented accomplishment not only in translation of modern Sudanese poetry but also scholarship on its history, evolution, poetics, and aesthetics. . . . This book is a great addition to the library of Arab poetry in translation that should appeal to scholars and the general public with interest in Arabic poetry."—Salah M. Hassan, Goldwin Smith Professor of Africana Studies and History of Art and Visual Studies at Cornell University
"Sudanese literature has long been a significant contributor to Arabic and world letters and culture. The thoughtful, provocative introduction in this anthology, combined with the clear-eyed lyric transformation of the poems into English, honor poetry everywhere. Just as in Iraq, Yemen, Morocco, or the United States, the weight of collective history and ethnic and linguistic diversity emerges to forge these Sudanese poems into art, both bound to and liberated from the national frame. Details matter, nuance is essential. And yet the story of Sudanese poetry is the story of poetry all over the world. From blaze to breeze, this is a beautiful book."—Fady Joudah, Palestinian American physician and author of the poetry collection The Earth in the Attic