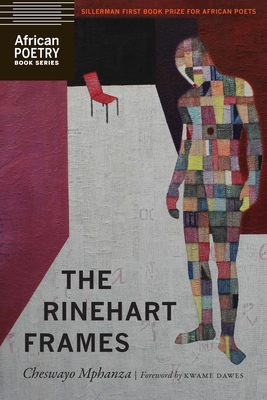 The Rinehart Frames (African Poetry Book )
Publication Date:
March 1st, 2021
Publisher:
University of Nebraska Press
Usually Ships in 1 to 5 Days
Description
2021 National Book Critics Circle Award Finalist 
2021 Foreword Indies Finalist
Winner of the Sillerman First Book Prize for African Poetry
The poems in The Rinehart Frames seek to exhaust the labyrinths of ekphrasis. By juxtaposing the character of Rinehart from Ralph Ellison's Invisible Man with the film 24 Frames by Abbas Kiarostami, the poems leap into secondary histories, spaces, and languages that encompass a collective yet varied consciousness of being.
Cheswayo Mphanza's collection questions the boundaries of diaspora and narrative through a tethering of voices and forms that infringe on monolithic categorizations of Blackness and what can be intersected with it. The poems continue the conversations of the infinite possibilities of the imagination to dabble in, with, and out of history.
Praise for The Rinehart Frames (African Poetry Book )
"In his electrifying debut, Mphanza presents a sustained project of ekphrasis and pastiche inspired by the work of African artists, Iranian film director Abbas Kiarostami, and the life and death of Congolese prime minister Patrice Lumumba. . . . This debut marks the arrival of a brilliant and intrepid voice."—Publishers Weekly, starred review
"Mphanza has assembled an archive from a dizzying array of sources, remixing input to create an astute study in intertextuality that is immediately personal and deeply engaged with art and African, American, and world history."—Diego Báez, Booklist
"Mphanza's poetry is for sure African; it is also international, speaking to all continents and peoples. Good poetry transcends geographical borders."—L. Ali Khan, New York Journal of Books
"In his debut collection, the well-read Zambian poet samples artists and fuses forms, resulting in a remarkable conversation of influences, a homage."—Ernest Ogunyemi, Open Country
"The Rinehart Frames is a brilliant and formally accomplished reworking of the cento in a collection that conjures the elegance of geometric theorems, while simultaneously revealing a capacious knowledge of, and deep engagement with, art, politics, Afrosporic issues, and the difficult condition of being human. A shamanistic archaeologist of the soul and its workings, Mphanza reassembles his collected fragments to offer us insights into our collective wisdoms, eschewing much that separates us. More than ever now, we need work such as this and, with 'a craft wielded and willed,' Mphanza is more than up to this difficult task."—M. NourbeSe Philip, author of Zong!
"The inventiveness and elegance with which The Rinehart Frames weaves the imaginations of visual art, film, and literature in order to observe and absorb the experience of Blackness in the troubled past and unsettling present is nothing short of extraordinary. Cheswayo Mphanza has shaped a language attuned to race, violence, and the artist's relentless search among the ruins for wisdom, truth, and beauty."—Rigoberto González, author of Unpeopled Eden
"The Rinehart Frames is one of the finest poetry debuts to appear in years. Virtuosic in voices and allusions; profound in its exploration of past and contemporary Black experience; expansive, from Zambia to the United States to those invisible spaces below and behind the world's surfaces, in its range and concerns, The Rinehart Frames gathers poetry we badly need now, and will return to, as a touchstone, in the future."—John Keene, author of Counternarratives
"Cheswayo Mphanza's ability to make sense of disparate subjects can only be compared to a musician working through chord changes, and he's a skilled soloist. Whether guiding us through frames of film, sharpening the focus on paintings framed on display, illuminating the framing of political pain, or framing the beauty of silence, there's music throughout."—A. Van Jordan, author of The Cineaste