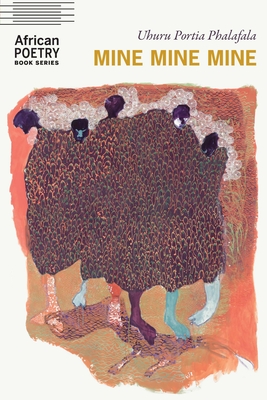 Mine Mine Mine (African Poetry Book )
Publication Date:
March 1st, 2023
Publisher:
University of Nebraska Press
Usually Ships in 1 to 5 Days
Description
Mine Mine Mine is a personal narration of Uhuru Portia Phalafala's family's experience of the migrant labor system brought on by the gold mining industry in Johannesburg, South Africa. Using geopoetics to map geopolitics, Phalafala follows the death of her grandfather during a historic juncture in 2018, when a silicosis class action lawsuit against the mining industry in South Africa was settled in favor of the miners.
Phalafala ties the catastrophic effects of gold mining on the miners and the environment in Johannesburg to the destruction of Black lives, the institution of the Black family, and Black sociality. Her epic poem addresses racial capitalism, bringing together histories of the transatlantic and trans-Indian slave trades, of plantation economies, and of mining and prison-industrial complexes. As inheritor of the migrant labor lineage, she uses her experience to explore how Black women carry intergenerational trauma of racial capitalism in their bodies and intersects the personal and national, continental and diasporic narration of this history within a critical race framework.
Praise for Mine Mine Mine (African Poetry Book )
"In Mine Mine Mine Uhuru Portia Phalafala pulls off a small miracle of craft: an intimate poem and yet also an epic. In the tradition of composers like Zim Ngqawana and poets like Okot p'Bitek, this work is personal narrative, a musical composition, an operatic libretto, simultaneously original and yet drawing from the lineage of griots, inyosis, and imbongis, with perfect play between soloist and chorus. An incredible book that spans self, history, and unknown dimensions, part spirit and part human."—Chris Abani, author of Smoking the Bible and The Secret History of Las Vegas
"History lies in our bodies, Uhuru Phalafala shows in Mine Mine Mine. Her words are insistent, alive, as necessary as breathing. She draws in startling depth the two worlds her grandparents lived in, her grandmother as one of millions of 'widows with living husbands' and her grandfather, banished to the city of men whose families are forbidden from living with them, and who descend each day to the subterranean country whose gold they gather and whose dust they breathe in and carry in their lungs. Refusing his death sentence by breathing, Phalafala addresses her grandfather directly, always in the present tense, noting how he and his comrades are made 'animal' by mining and apartheid. Her words hail her grandfather, refuse the theft of him by golden death, diamond-sharp death, death in the womb of the earth and death above the surface. The charge of Mine Mine Mine is to possess the self against the theft of the body by the underground cities and their mass graves a mile down, their gold dust carried in bodies that are a treasure to those they never see except at Christmas and at the end to die, coughing. Phalafala writes a new history, tenderly filling in what was lost, the births and generations missed during the long absences, bearing witness to the links from the Atlantic and Indian Ocean slave trades to the dust of the mines, tracing centuries of history in one body breathing."—Gabeba Baderoon, author of The History of Intimacy and A Hundred Silences
"Mine Mine Mine grabs my heart by its throat and tells it who it is. . . . The breadth of Phalafala's twelve-year academic devotion to the study of words is evident in the precision with which she wields her tremendous sonic and literary gifts. The mind's ear hears the repetitive machinery of the mines. It connects to the sharp edge that Blackness gave birth to in the city. Phalafala guides the reader across the complex contours of womanhood, the embodiment of the land in Setswana, and mourns a lost cyclical relationship to both. Canons of Black feminist memory, music, and pan-African influences converge in a treatise so tight the only word that can crown this elegant elegy is 'truth.'"—Lebogang Mashile, award-winning poet and performer
"These poems exist as a single aching narrative that traces the poetics of memory and geography and the sheer weight of them is both brutal and beautiful—like history itself. There are stanzas that are impossible to forget. . . . It is a rare gift, this—to be able to say the hardest things in the most difficult of ways, to be unyielding and unbowed and to be unashamed. It is a wonder to behold, this way of writing that weaves time and place and joy; that notes what has been lost and revels in what might yet come. . . . This work is a catalogue of loss but it is also a tally of what we have gained. It maps the past just as surely as it marks out the terrain of our future. It is a beginning, a way of doing anew what has always been done. This work is indeed a way to 'sing our resurrection.'"—Sisonke Msimang, author of Always Another Country: A Memoir of Exile and Home and The Resurrection of Winnie Mandela