New Release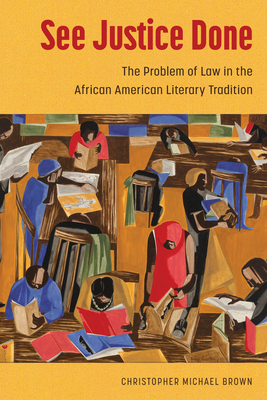 See Justice Done: The Problem of Law in the African American Literary Tradition (Margaret Walker Alexander African American Studies)
Publication Date:
December 4th, 2023
Publisher:
University Press of Mississippi
Description
In See Justice Done: The Problem of Law in the African American Literary Tradition, author Christopher Michael Brown argues that African American literature has profound and deliberate legal roots. Tracing this throughline from the eighteenth century to the present, Brown demonstrates that engaging with legal culture in its many forms--including its conventions, paradoxes, and contradictions--is paramount to understanding Black writing.
Brown begins by examining petitions submitted by free and enslaved Blacks to colonial and early republic legislatures. A virtually unexplored archive, these petitions aimed to demonstrate the autonomy and competence of their authors. Brown also examines early slave autobiographies such as Olaudah Equiano's Interesting Narrative and Mary Prince's History, which were both written in the form of legal petitions. These works invoke scenes of Black competence and of Black madness, repeatedly and simultaneously.
Early Black writings reflect how a Black Atlantic world, organized by slavery, refused to acknowledge Black competence. By including scenes of Black madness, these narratives critique the violence of the law and predict the failure of future legal counterparts, such as Plessy v. Ferguson, to remedy injustice. Later chapters examine the works of more contemporary writers, such as Sutton E. Griggs, George Schuyler, Toni Morrison, and Edward P. Jones, and explore varied topics from American exceptionalism to the legal trope of "colorblindness." In chronicling these interactions with jurisprudential logics, See Justice Done reveals the tensions between US law and Black experiences of both its possibilities and its perils.