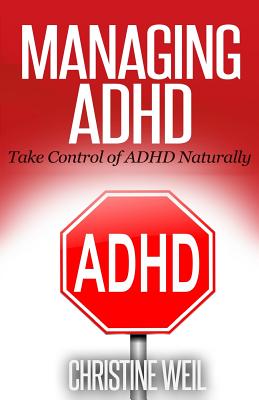 Managing ADHD: Take Control of ADHD Naturally with Diet and Supplements (Natural Health & Natural Cures)
This product is not returnable.
Publication Date:
September 30th, 2014
Publisher:
Createspace Independent Publishing Platform
Usually Ships in 1 to 5 Days
Description
In "Managing ADHD: Take Control of ADHD Naturally," bestselling author Christine Weil provides an outline of the most effective and commonly used natural treatment options for ADHD, information on what symptoms each option can be used to address, and ideas for how to incorporate that treatment option into an overall ADHD management program. You will learn: - Common misconceptions about treating ADHD, there's a lot of bad information out there - About ADHD coaching, and why it can make a massive difference - Why it is so important to manage stress with ADHD, this one is huge - How to use meditation and deep breathing for short and long term symptom relief, this can effectively interrupt the "crisis cycle" and bring relief - The importance of sleep and exercise for those with ADHD, both are essential to effectively managing the condition - The role diet plays in treating ADHD, there is a lot of misinformation floating around on this topic too. - Why therapy can be beneficial, for dealing with everything from low self-esteem to substance abuse and a wide array of other symptoms. This book provides the tools needed to tackle some of the most damaging symptoms of ADHD without using pharmaceuticals. With these natural treatment options, you can create an ADHD management program tailored to your individual needs. Remember, understanding and knowledge are the best medicine.