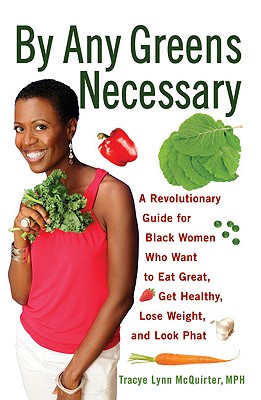 By Any Greens Necessary: A Revolutionary Guide for Black Women Who Want to Eat Great, Get Healthy, Lose Weight, and Look Phat
Publication Date:
May 1st, 2010
Publisher:
Lawrence Hill Books
Usually Ships in 1 to 5 Days
Description
* The first vegan guide geared to African American women
* More than forty delicious and nutritious recipes highlighted with color photographs
* Menus and advice on transitioning from omnivore to vegan
* Resource information and a comprehensive shopping list for restocking the fridge and pantry
African American women are facing a health crisis: Heart disease, stroke, and diabetes occur more frequently among them than among women of other races. Black women comprise the heftiest group in the nation—80 percent are overweight, and 50 percent obese. Decades of studies show that these chronic diseases can be prevented and even reversed with a plant-based diet. But how can you control your weight and health without sacrificing great food and gorgeous curves?
Just ask Tracye Lynn McQuirter. With attitude, inspiration, and expertise, in By Any Greens Necessary McQuirter shows women how to stay healthy, hippy, and happy by eating plenty of fresh fruits and vegetables, whole grains, and legumes as part of an active lifestyle. The book is a call to action that all women should heed.
Praise for By Any Greens Necessary: A Revolutionary Guide for Black Women Who Want to Eat Great, Get Healthy, Lose Weight, and Look Phat
"Finally, a down-to-earth look at plant-based diets for the black community. [This book] will empower even the most staunch omnivore to re-evaluate their food choices and move towards a healthier outlook, not just for themselves, but for the planet."  —Melissa Danielle, coordinator, Black Vegetarian Society of New York (BVSNY.org) and Wellness Communicator (VegetarianHealthCoach.net)
"Even in the Obama era, Black women often believe that we lack choices, and control over our lives. By Any Greens Necessary reminds us that we have the power to make choices, and become heroes in our own lives through the choices we can make with regard to our food."  —Majora, MacArthur "genius" Fellow, host of The Sundance Channel's Eco-Heroes and public radio's The Promised Land, and urban revitalization strategist
"If there's one health book black women should read this year, this is it. By Any Greens Necessary shows us the real deal about how to eat well and get healthy for life"  —Tonya Lewis Lee, writer, producer, activist, and author, Gotham Diaries
"By Any Greens Necessary will change your life."  —Michael Greger, MD, author, Carbophobia: The Scary Truth About America's Low-Carb Craze
"A fascinating read."  —The Root
"A necessary read."  —Curve