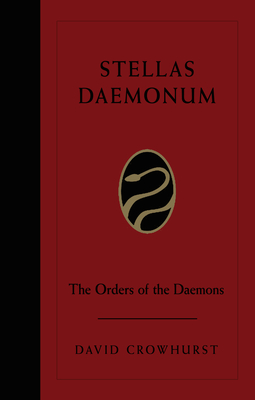 Stellas Daemonum: The Orders of the Daemons (Weiser Deluxe Hardcover Edition)
Publication Date:
November 1st, 2021
Usually Ships in 1 to 5 Days
Description
An original, beautifully produced work (see specifications, photos, and video below) that explores the "star demons" and their correspondences in magic and astrology as revealed in the medieval grimoires and classical esoteric texts.
Includes:
A translucent, velum dustjacket
Three-piece genuine cloth case cover, with ¼ black cloth on the binding edge and red cloth material over heavy-weight binders board
Three different hits of stamping, including gold and black designs on the boards with blind stamp frames and gold stamping on the spine
A black endsheet is used to bind the text block to the case, with rounded back, headbands, and a ribbon marker
Smythe-sewn binding
Printed on quality, archival (acid-free), 55# natural colored paper, in soy ink
 
Stellas Daemonum offers an in-depth analysis of the spirits that appear in several late medieval and early modern grimoires. The book unravels these texts' mythical, etymological, magical, and religious dimensions and, most importantly, draws out their astrological correspondences. The author shows how the spirit entities featured in these goetic grimoires can be best understood by studying the celestial nature apparent in the ancient concept of the daimon and through an extensive study of ninety-three of the spirits featured in the medieval and Renaissance texts. The book also explores how Judeo-Christian traditions ultimately "demonized" such expressions due to their polytheistic roots and made punishable by death any attempts to reconnect with them.
Praise for Stellas Daemonum: The Orders of the Daemons (Weiser Deluxe Hardcover Edition)
"Stellas Daemonum is a working tool to be used again and again by magicians for whom the magic art of spirit evocation is a passion. If this describes you, I think you will find here the citizens of your magical universe, the symbols and mythological archetypes of your own soul, more real, more awakened, and more ready to trigger the next changes you need to make in your evolving consciousness."
— Lon Milo DuQuette
"Stellas Daemonum makes a significant contribution to the study of Medieval spirit catalogues. Most notably, it places the genre into a well-researched and coherent cosmological framework. While the main body of the book is likely to be used as a lifelong study companion for dedicated practitioners, it is the incredibly well-written first three chapters that I recommend as essential reading to all students. To my knowledge, the only comparable introduction to the 'stellar tradition' of equal value is Helmut Ritter's 1962 introduction to the Picatrix, which to this day is only accessible to the German reader. Congratulation to David Crowhurst on this essential addition to the maze and gateway that is the Western Spirit tradition." 
— Frater Acher
"Magic is not an art but a technique which has repeatable procedures and observable outcomes in the physical world. . . . In Stellas Daemonum, David Crowhurst has thus returned to the original 'spirit model' explanation of why magic works. David Crowhurst defends the spirits as spirits rather than trying to apologise for them on theological grounds or downplay their existence to nothing beyond the psychological. . . . Crowhurst has done magic a great favour by bringing them once again to the forefront of the subject. He restores their pride in their celestial origins, fitting them into the astrological framework of the heavens, thereby making sense of many of the scattered grimoire attributions. . . . It is good that at long last someone has again picked up his pen to defend the ancient connection between astrology and magic and to help stitch them together again."
— From the foreword by Stephen Skinner, author of The Complete Magician's Tables and other works