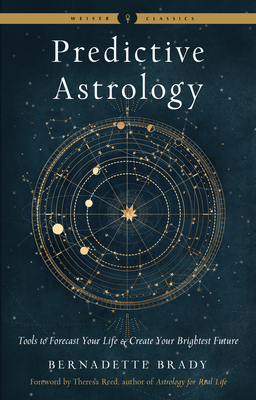 Predictive Astrology: Tools to Forecast Your Life and Create Your Brightest Future (Weiser Classics Series)
Publication Date:
June 1st, 2022
Usually Ships in 1 to 5 Days
Description
A groundbreaking work that offers deep insights and astrological techniques for bringing the future to light.
"Predictive Astrology is one of the first astrology books that opened my eyes to the idea that astrology is about cycles of time. And that you can predict when certain things will happen based on where the planets are in the sky now compared to where they were when you were born."—Katie Sweetman, from O Magazine's "15 Best Astrology Books for Anyone Who Can't Get Enough of the Zodiac"
Predictive Astrology shows the reader how to use Time Maps to approach to the fate of the transits, and includes new methods for calibrating and filtering progressions, returns of all kinds, eclipses, and planetary areas. By combining these techniques, you can reveal the future and put various aspects of your life into perspective.
Offering many new techniques and concepts, this classic groundbreaking work (first published in 1976) is finding a new and growing audience. The book brings predictive astrology into a world of its own.
This new Weiser Classics edition includes a new foreword by Theresa Reed, author of Astrology for Real Life.
Praise for Predictive Astrology: Tools to Forecast Your Life and Create Your Brightest Future (Weiser Classics Series)
"Predictive Astrology is a timeless masterpiece that every astrologer will want by their side as they deepen their astrological studies. The best way to learn is through practice, trial, and error, with a good teacher at the helm. Bernadette Brady is one of the best in the field. With this book by your side, you're getting a master class in understanding what goes into predictive astrology - and perhaps this can help you, the reader, understand fate's role in your life - and how to make it work for you."
— From the foreword by Theresa Reed, author of Astrology for Real Life - A No B.S. Guide for the AstroCurious