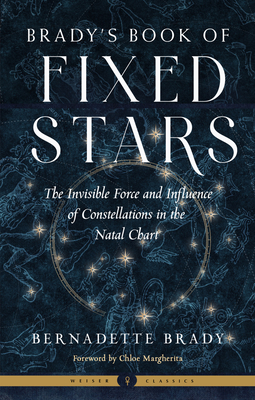 Brady's Book of Fixed Stars: The Invisible Force and Influence of Constellations in the Natal Chart (Weiser Classics Series)
Publication Date:
August 5th, 2024
Description
A richly detailed in-depth look at "fixed stars" and their role in affecting astrological predictions. 
 
Here, celebrated astrologer Bernadette Brady melds modern techniques with Egyptian and early Greek procedures and mythology so astrologers can apply these techniques to modern chart interpretation. Her methods open a window on the fixed stars, revealing how a major star in a person's chart indicates the stage of life in which it is active, and how it reveals the person's life journey through the mythology that the star represents.
 
The book includes: 
Paran Maps and Star Phases for over sixty stars
New insights into the natal use of fixed stars, as well as their use in mundane astrology
Extensive appendices of Heliacal Rising and Acronychal Setting graphs and tables to help astrologers find rising or setting dates for any given location
A listing of 176 stars with their 21st-century Ptolemaic processed positions versus their commonly-considered positions. 
Originally published by Weiser Books in 1999, this new Weiser Classics edition is newly typeset and redesigned. It includes a new foreword by Chloe Margherita, a practicing astrologer with an in-depth appreciation of the fixed stars.