Discounted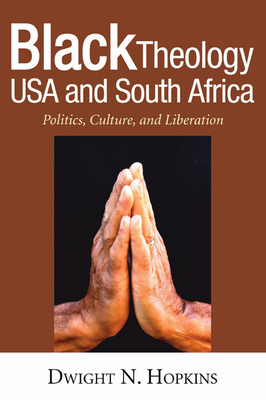 Black Theology USA and South Africa (Bishop Henry McNeal Turner Studies in North American Black R #4)
Previous price:

$32.00
Current price:

$29.00
Publication Date:
December 1st, 2005
Publisher:
Wipf & Stock Publishers
Usually Ships in 1 to 5 Days
Description
Black theology continually poses a challenge to Christian witness and faith. Through a critical analysis of leading religious thinkers, Dwight N. Hopkins explores the fundamental differences and similarities between black theology in the United States and black theology in South Africa and asks: What is the common denominator between the two? Part I examines the historical, political, cultural, and theological background of contemporary black theology in both countries. Hopkins delves into the distinctive situation of each country, focusing on civil rights, black power, and related political, cultural, and theological themes in the United States, and on civil disobedience, black consciousness, the unity of politics and culture, and political/cultural/theological themes in South Africa. Through interviews with leading black religious scholars, Part II explores these theologies in depth. Contrasting the cultural-theological trend with the political-theological trend in the USA, Hopkins explores the ideas of theologians Albert B. Cleage, James H. Cone, J. Deotis Roberts, William R. Jones, Gayraud S. Wilmore, Charles H. Long, Cecil W. Cone, and Vincent Harding. In Part III Hopkins examines the same two trends - cultural-theological and political-theological - in South Africa. Here the focus is on the impact of black consciousness and Soweto, and the works of Manas Buthelezi, Allan Boesak, Simon S. Maimela, Frank Chikane, Bonganjalo C. Goba, Itumeleng J. Mosala, Takatso A. Mofokeng, and Desmond M. Tutu. Part IV brings black theology USA and black theology South Africa into dialogue. Hopkins locates the common denominator between the tow theologies: that ""they both claim the Christian gospel as the gospel of liberation for black people struggling against racism and for a holistic humanity - physically and spiritually, politically and culturally."" He concludes by looking toward future areas of development and collaboration, arguing that an effective black theology of liberation must integrate politics and culture, insuring that the two are equal and complementary, ""two tributaries within the same current."" ""Hopkins' study is the only book which has dealt with both theologies independently and in relation to each other....It is a first-rate contribution to theology in general and to black theology in particular."" - James H. Cone ""Dwight Hopkins carefully maps the terrain between North American and South African Black Theology. This detailed analysis of the cultural and political connections which ignited the explosion of Black theology in both countries is an indispensable guidebook for Black and White coalitions at home or abroad."" - Gayraud Wilmore Dwight N. Hopkins teaches at the University of Chicago Divinity School, and is the author of Being Human: race, culture, and religion.