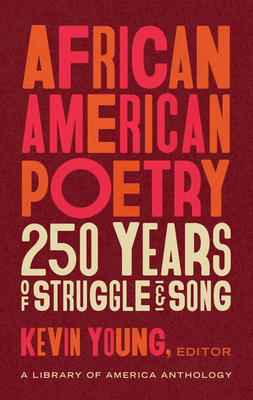 African American Poetry: 250 Years of Struggle & Song (LOA #333): A Library of America Anthology
Publication Date:
October 20th, 2020
Publisher:
Library of America
Usually Ships in 1 to 5 Days
Description
A literary landmark: the biggest, most ambitious anthology of Black poetry ever published, gathering 250 poets from the colonial period to the present
Across a turbulent history, from such vital centers as Harlem, Chicago, Washington, D.C., Los Angeles, and the Bay Area, Black poets created a rich and multifaceted tradition that has been both a reckoning with American realities and an imaginative response to them. Capturing the power and beauty of this diverse tradition in a single indispensable volume, African American Poetry reveals as never before its centrality and its challenge to American poetry and culture.
One of the great American art forms, African American poetry encompasses many kinds of verse: formal, experimental, vernacular, lyric, and protest. The anthology opens with moving testaments to the power of poetry as a means of self-assertion, as enslaved people like Phillis Wheatley and George Moses Horton and activist Frances Ellen Watkins Harper voice their passionate resistance to slavery. Young's fresh, revelatory presentation of the Harlem Renaissance reexamines the achievements of Langston Hughes and Countee Cullen alongside works by lesser-known poets such as Gwendolyn B. Bennett and Mae V. Cowdery. The later flowering of the still influential Black Arts Movement is represented here with breadth and originality, including many long out-of-print or hard-to-find poems.
Here are all the significant movements and currents: the nineteenth-century Francophone poets known as Les Cenelles, the Chicago Renaissance that flourished around Gwendolyn Brooks, the early 1960s Umbra group, and the more recent work of writers affiliated with Cave Canem and the Dark Room Collective. Here too are poems of singular, hard-to-classify figures: the enslaved potter David Drake, the allusive modernist Melvin B. Tolson, the Cleveland-based experimentalist Russell Atkins. This Library of America volume also features biographies of each poet and notes that illuminate cultural references and allusions to historical events.
Praise for African American Poetry: 250 Years of Struggle & Song (LOA #333): A Library of America Anthology
"Monumental and rapturous" —The New York Times
"It is overwhelming to contemplate the variety and history contained in this volume. The poems gathered here have the force of event. They were written as acts of public mourning, and as secrets; they are love poems and bitter quarrels. They are prized company." —Parul Sehgal, The New York Times
"This vast anthology gathers voices both canonical and overlooked to build an implicit but unassailable case that Black poetry is central to American literature." —New York Times Book Review
"I've already ordered gift copies of the year's most revelatory book, African American Poetry: 250 Years of Struggle & Song. Superbly edited by Kevin Young, this astonishing collection runs from Phillis Wheatley, an enslaved woman who wrote elegant verse, to such present day luminaries as Terrance Hayes and Claudia Rankine. The poems are steeped in the sorrow, pain and rage you'd expect from people treated so inhumanely. The writers featured in this volume — most of whom I didn't know — are poets who explore the whole range of human experience — love, death, jazz, food, menopause, fatherhood, gentrification, moon landings, even jive artists who wrap themselves in Black suffering just to get ahead. In different ways, they celebrate, in Lucille Clifton's words, "that every day/something has tried to kill me/and has failed." —John Powers, "Fresh Air"
"Simply, a landmark. It's easy to read that as hyperbole, and yet Young, a major poet himself . . . spent six years assembling what amounts to an overwhelming, and often fun, thousand-page refocusing of our literary legacy. Legends and laureates are well represented . . . but where this collection excels is adding centuries of the lesser-known greats whose work was steady and remarkable, sometimes made furtively, sometimes with a touching thankfulness for ancestors. Together, it's a kind of history of American history — jazz, Emmett Till, slavery — but also a celebration of arts movements. . . and a lively conversation across decades. . . . It's addicting, and refreshing, and no doubt, the sort of holiday treasure a family hands down for generations."
—Chicago Tribune, "The 10 Best Books of 2020"
"Young, himself an acclaimed author of poetry and prose, has created a document both breathtaking and inspiring, historical and personal." —TIME magazine (The 100 Must-Read Books of 2020)

"A remarkable anthology. . . . Including more than 240 poets, [African American Poetry] moves through eight periods, illustrating the various movements in this vast canon right up to our present moment." —Ron Charles, Washington Post
"This monumental volume, assembled by the poet and newly appointed director of the Smithsonian's National Museum of African American History and Culture, is long overdue. It opens with verse, first published in 1773, by Phillis Wheatley, who was sent to America via the Middle Passage and enslaved yet went on to learn English and commence the African American poetic tradition. The late June Jordan described the proliferation of Black poetry in America as "the difficult miracle," and that miracle receives glorious tribute here." —O, The Oprah Magazine, "The 20 Best Books of 2020"
"In this landmark volume, clocking in at a whopping 1170 pages, one of our most talented contemporary poets presents the most ambitious anthology of Black poetry ever published. Beginning in 1770 and culminating in the artistic outpouring emerging through the Black Lives Matter movement, Young spotlights 250 important poets, each situated in an incisive historical and literary framework. Young also takes care to spotlight poetic movements and writing collectives, tracing the influence of creatives on the development of other creatives. Together, these 250 voices, old and new, celebrated and neglected, form a dazzling symphony of talent across generations, making for a breathtaking, expansive canon." —Adrienne Westenfeld, Esquire, "Best Books of 2020"
"One of the U.S.'s most talented poets, Kevin Young is the perfect guide to reconstruct the American canon. His sweeping anthology of African-American poetry across U.S. history is an exhilarating collection of voices that have helped shape the country, many of whom never got their full due. By including new forms and overlooked schools, Young's anthology promises to rewrite the history of American verse." —TIME magazine ("The 42 Most Anticipated Books of Fall 2020")

"[AFRICAN AMERICAN POETRY] offers spirited intergenerational conversations that reveal the testimony of poetry and allows readers to deepen connections with familiar writers and build an affinity for unfamiliar names and ever important messages of their work." —Smithsonian Magazine
"We are living in a Golden Age of American poetry, and many of the writers who make it so are black: Robin Coste Lewis, Nikky Finney, Tracy K. Smith, Terrance Hayes, Rickey Laurentiis, Honoree Fannone Jeffers, Saeed Jones, Reginald Dwayne Betts, Aracelis Girmay, Gregory Pardlo, Donika Kelly, Patricia Smith, Camille Dungy… this list could go on and on and on. And it does, and to read Young's fabulously well-edited anthology of African-American poetry is to realize how deep the roots of this contemporary flowering are, how much variety and intensity there has been within African-American poetry decade-in and decade-out, since the dawn of the nation. Drawing in blues poets and hard to categorize experimental writers too, Young has made a volume for the ages which has the shock of beauty on every page." –John Freeman, Lit Hub
"This outstanding volume by New Yorker poetry editor Young . . . offers a deep, broad, and nuanced consideration of an essential American art form." —Kirkus Reviews (12 Books That Make Great Holiday Gifts)
"A defining, glorious, and invaluable anthology of African American poetry that reaches back to 1770 and concludes with today's artistic flourishing in sync with Black Lives Matter. Vitality, beauty, anger, sorrow, humor, and hope all find original, resonant, and consummate expression throughout this expert gathering of works by both celebrated poets and many who will be new to readers, especially women and LGBTQ poets from earlier eras, and all 250 poets are succinctly profiled. Kevin Young provides a historical and literary framework in eight chronological sections, each discussed in substantial and enlightening detail in his elegantly composed and dynamic introduction. His coverage includes pivotal creative movements, including not only the Harlem Renaissance, but also the Chicago Renaissance, the Black Arts Movement, and such writing collectives as June Jordan's Poetry for the People, Cave Canem, and the Dark Room Collective. In this powerhouse anthology, African American poets are clearly in dialogue with each other across generations, sustaining community. Written under siege both obvious and insidious, their poems engage with every aspect of life while tracking the ongoing quest for equality and justice. A profound and affirming pleasure to read and an imperative resource for every public library." —Booklist (Starred review)
"The giants are well represented in this enormous collection, including Langston Hughes, Gwendolyn Brooks, Lucille Clifton, Rita Dove and Natasha Tretheway. But so are more than 200 other poets worthy of wider recognition." —Milwaukee Journal Sentinel ("33 Books to Read this Fall")
 
"New Yorker poetry editor Kevin Young takes on the monumental task of condensing 250 years of African-American poetry into this must-own anthology… Discover it." —THE WEEK ("21 Books to Read this Fall")

"This thousand-page collection should be required reading for all Americans."
—San Francisco Chronicle

"Incendiary and dazzling..." —Poets & Writers

"African American Poetry: 250 Years of Struggle & Song is one impressive collection …This is a book to be passed from hand to hand, generation to generation." — Shelf Awareness (Starred review)
"With this monumental work, Young has provided a lasting contribution to historical preservation and poetry." —Publishers Weekly (Starred review)