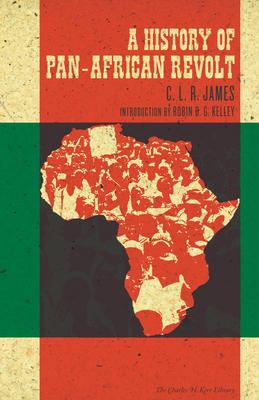 A History of Pan-African Revolt
Publication Date:
October 25th, 2012
Usually Ships in 1 to 5 Days
Description
Originally published in England in 1938 and expanded in 1969, this work remains the classic account of global Black resistance. This concise, accessible history of revolts by African peoples worldwide explores the wide range of methods used by Africans to resist oppression and the negative effects of imperialism and colonization as viewed in the 20th century. Written from a radical perspective with a substantial new introduction that contextualizes the work in the ferment of the times, A History of Pan-African Revolt is essential to understanding liberation movements in Africa and the diaspora and continues to reveal new insights, lessons, and visions to successive generations.
Praise for A History of Pan-African Revolt
"Kudos for reissuing C. L. R. James's pioneering work on Black resistance. Many brilliant embryonic ideas articulated in A History of Pan-African Revolt twenty years later became the way to study Black social movements. Robin Kelley's introduction superbly situates James and his thought in the world of Pan-African and Marxist intellectuals."  —Sundiata Cha-Jua, associate professor in the Department of History, University of Illinois–Urbana-Champaign
"A mine of ideas advancing far ahead of its time."  —Walter Rodney, historian, political activist, and author, How Europe Underdeveloped Africa
"C. L. R. James has arguably had a greater influence on the underlying thinking of independence movements in the West Indies and Africa than any living man."  —Sunday Times
"When one looks back over the last twenty years to those men who were most far-sighted, who first began to tease out the muddle of ideology in our times, who were at the same time Marxists with a hard theoretical basis, and close students of society, humanists with a tremendous response to and understanding of human culture, Comrade James is one of the first one thinks of."  —E. P. Thompson, historian and author, The Making of the English Working Class
"More than an historical curiosity, James's work brims with transcendent ideas so adamant and clear they continue to read fresh today." —Publishers Weekly (March 31, 2013)
"In 1938 C.L.R. James, the great Trinidadian Marxist, published two books. The Black Jacobins: Toussaint L'Ouverture and the San Domingo Revolution was an account of Haitian Revolution that is now widely recognised as a classic. A History of Negro Revolt, republished as A History of Pan-African Revolt in 1969, was a much smaller volume looking at Black struggles for freedom in Africa, the Caribbean and the United States from 1739 to early 1938. As Robin D.G. Kelley observed in his introduction to the new edition of the book, first published in 2012, it "has remained one of the best kept secrets among a handful of Marxists and black militants. It never sold many copies, but everyone familiar with James's ideas or the resurgence of Pan-Africanism in the 1960s knew of its influence. The late Walter Rodney, the great historian and Guyanese revolutionary, once called it 'a mine of ideas advancing far ahead of its time'." —https://www.newframe.com/archive-clr-james-icu
"James's survey of Black struggles includes a number of references to struggles in South Africa, including the Industrial and Commercial Workers' Union (ICU). New Frame is delighted to be able to publish James' account of the ICU with permission from PM Press." —https://www.newframe.com/archive-clr-james-icu