Staff Pick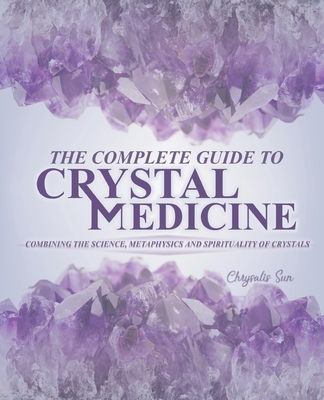 The Complete Guide To Crystal Medicine: Combining The Science, Metaphysics, and Spirituality of Crystals
This product is not returnable.
Publication Date:
February 15th, 2019
Publisher:
Therapeutic Vibrations LLC
Usually Ships in 1 to 5 Days
Description
"My message is that with the right system, and proper knowledge of that system, anyone can heal themselves." Chrysalis Sun
The Complete Guide to Crystal Medicine is the first book of its kind to combine the science, metaphysics, and spirituality of the technique known as crystal medicine. Chrysalis' own life journey and experiences are the inspirations behind her studies - bringing this powerful message of hope and healing to be shared with the world. She has helped countless people restore and transform their personal and professional lives, beginning with her own Her teachings give you the tools and empowerment to take control and live your best life in totality - mind, body, and spirit.
What is crystal medicine? Crystal medicine is a holistic non-invasive healing method that can be used to improve one's overall physical, mental, and emotional well-being. Reiki master and crystal expert Chrysalis Sun presents a comprehensive instructional guide that teaches effective crystal healing practices that can be applied by anyone. In this easy-to-follow guide learn:
-Crystals and their corresponding chakra, planet, element, zodiac, and healing benefits
-Basic field identification
-How to choose the right crystal for your needs
-How to combine crystals with energy healing
-The science of how crystals work to heal your body
And much more
Chrysalis takes the reader on a journey exploring and sharing her findings from over twenty years of experience in the field. Beginning with the history of crystal medicine, the science and how crystals influence our biochemistry, to its effects on the subtle body. And how, ultimately, crystals can be used to bring the body into a natural state of wellness. Each of us has a personal responsibility to our own healing - this book will help you awaken, tap into the deeper parts of yourself, and do just that using resources from the planet we inhabit.