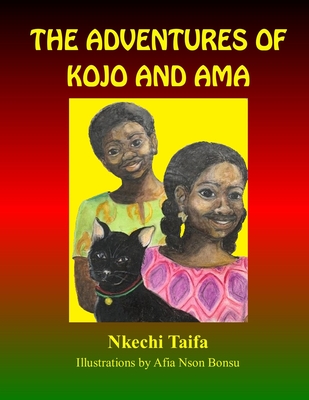 The Adventures of Kojo and Ama
Publication Date:
October 8th, 2021
Publisher:
House of Songhay II
Usually Ships in 1 to 5 Days
Description
Join Kojo and Ama and their pet, Sheba the Cat, as they learn about their history, hear about great people that came before them, and go on many adventures in these stories that combine excitement, fun and suspense with lessons in pride and heritage:
Sheba the Cat
Danger in the Park after Dark
The Man with the Red, Black, and Green Cap
Smoke and Flames
Fun in the Sun
Kings and Queens of the Nile
Save the Land
This Africentric primer for young readers also includes Notes for the Parent and Teacher and Questions and Activities for the Reader that strengthen basic reading and comprehension skills. Richly colored illustrations bring added life to the stories
In The Adventures of Kojo and Ama, author Nkechi Taifa explores values centered around unity, responsibility, purpose, pride, and self-esteem. Her tales illustrate the importance of safety and caution. They also help educate learners about discrimination in society.