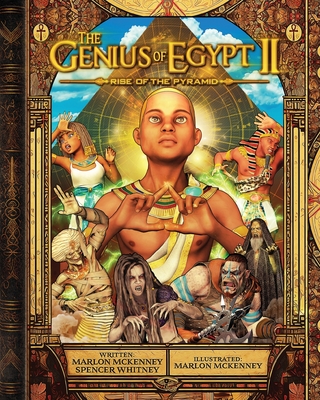 The Genius of Egypt II: Rise of the Pyramid
Publication Date:
November 11th, 2023
Publisher:
Conscious Culture Publishing
Usually Ships in 1 to 5 Days
Description
Journey back in time to the heart of ancient Africa and witness the incredible return of Imhotep, the visionary architect, as he fearlessly takes on the unprecedented challenge-the design and construction of the world's very first pyramid, The Step Pyramid of Saqqara. But a diabolical scheme unfolds as a dark force conspires against the brilliant genius, summoning a trio of deadly assassins to annihilate the pyramid's foundation-and its creator.
In this thrilling African adventure, uncover the hidden mysteries of ancient Egyptian philosophy and unlock the construction secrets behind this architectural marvel. Will Imhotep overcome the treacherous odds stacked against him? Can he defeat the sinister forces threatening to erase his legacy from history?
Embark on an unforgettable journey with Imhotep, the brilliant genius, as he molds the future of ancient Egypt into a thrilling adventure you won't want to miss. Order your copy today