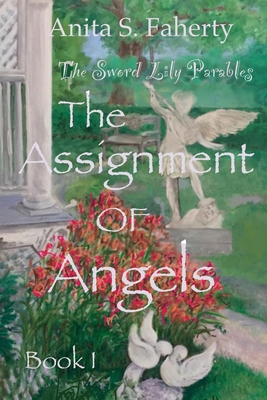 The Sword Lily Parables: The Assignment of Angels
This product is not returnable.
Publication Date:
December 7th, 2021
Publisher:
Anita S. Faherty
Usually Ships in 1 to 5 Days
Description
Francie O'Malley, is among the missing. When Lucy Penn enters Pastor's prayer garden on the terrible day, five young girls are watching the smoking sky across the river. They ask her if it's the end of the world. Moved with compassion, while grappling with her grief, Lucy takes the girls on a journey back to St. Mary's when she was a girl in the spring of 1962. She begins with an unusual story about The Assignment of Angels, and her best friend Francie O'Malley's first encounter with a heavenly being.
Recorded in the Vatican, on October 13, 1884, Pope Leo XIII overhears the devil's boast that he can steal the Church if given enough time and power over those who will serve him. God grants him 100 years, and the devil chooses the 20th century. (Nobody knows exactly what commencement date is agreed upon.)
Beneficent Angel is assigned by the Powers That Be to warn the world of pending doom should people not change their evil ways. Beneficent zeroes in on a very unlikely candidate as her messenger, one spoiled 12year-old named Francie O'Malley. Beneficent finds her, along with her best friend, Lucy Penn, smoking behind the priest's garage at St. Mary's School for Girls.
After terrifying Francie with an over-the-top vision of the devil dragging himself ashore, Beneficent resorts to animating the statues in the prayer garden to help her convey Heaven's dire warning. Francie is transplanted, through visions and dreams, to St. Mary's-of-the-Future to witness the state of the world under the rule of Cell Fish, a Top Captain of Hell.
When Beneficent Angel's ability to direct her plan is suddenly upended by a startling accident caused by Marvelous Angel, Beneficent must use all her skills to help the girls, while preventing Marvelous from being cast out of Heaven forever.
With a large dose of humor, book one of the Sword Lily Parables, fun for young and old alike, introduces all the characters dwelling in the imaginary seashore town of Three Rivers, on, above, and below the earth, past, present, and future.
Following the adventures of a little beaver named Scout, Scout's cranky friend Deer, and the Great P rigord, an oversized gander impersonating a dead bishop, Francie and Lucy must step up to the Assignment of Angels to unearth their mystical mission in a world where the memory of divine reality is all but forgotten.
It will remain up to the talking animals, outcasts, and orphans of St. Mary's-of-the-Future to lead Francie to stop the 100-year prophecy before it's too late.