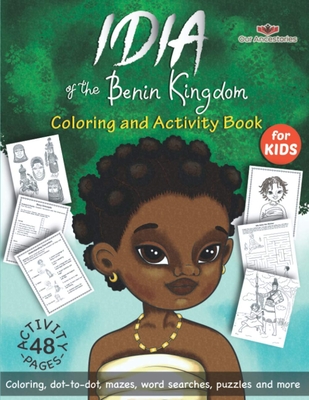 Idia of the Benin Kingdom Colorint and Activity Book (Our Ancestories: Activity Books #1)
Publication Date:
April 29th, 2021
Publisher:
Our Ancestories
Usually Ships in 1 to 5 Days
Description
Idia of the Benin Kingdom Diverse Coloring Activity Book For Kids Ages 4-8
Treat your little one to a uniquely creative way to learn all about the African Kingdom of Benin with this coloring and activity book specially designed to cover ancient African history for kids 4-8.
On every page you'll find new exercises, challenges and creative tasks that will spark their imagination into life by introducing them to a world unlike any other. Just what you need when you want them to see the rich history and culture the world has to offer as they learn African history the creative way.
★ Inspire Imagination by bringing Idia's story to life like never before as your little one gets to dream about what her life was really like.
★ Get Truly Creative by exploring shape, color and developing the fine motor skills that set every child free to express themselves.
★ Share a Rich Culture that deserves to be rediscovered and enjoyed by the next generation for years to come.
★ Learn Stories Through Play and leave a lasting impression that will inspire your child to live a life without limits.
★ Embrace History by making it fun with a little help from a truly creative way to teach African history for kids 4-8.