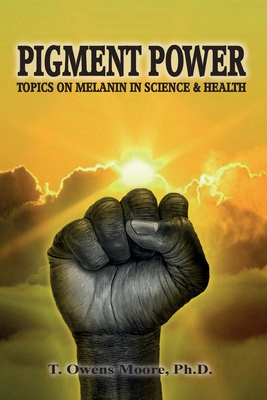 Pigment Power: Topics on Melanin in Science & Health
This product is not returnable.
Publication Date:
July 16th, 2020
Usually Ships in 1 to 5 Days
Description
The power of pigment is pervasive throughout the planet and the cosmos. Without pigment, life would cease to exist. In fact, it is the key element that defines life on a social, political, physical and biological level. Moore provides a comprehensive context for the reader to understand both the political issues associated with "blackness" and the physiological advantages of having melanin strategically located in and on the human body. In a provocative way of explaining scientific information, Dr. Moore presents controversial topics on life, bodily processes, origins of humanity, and keys to combating pandemics with a pigment powered defense system.
Introduction
Chapter 1 - The Social Implications of Blackness
Chapter 2 - The Role of Melanin in Health Promotion
Chapter 3 - Melanin and Nervous System Development
Chapter 4 - Sunconscious
Chapter 5 - Electromagnetic Energy and Mental Health
Chapter 6 - Rhythm Nation
Chapter 7 - Penis Power and Pigmentation
Chapter 8 - Melanin and Cellular Enhancement
Chapter 9 - Melanin Protection, Stress and Aging
Chapter 10 - Technology and the Blackest of Black
Chapter 11 - Astrobiology and Melanin
Chapter 12 - Pigment Powered Defense System
Conclusion
References
Index
About the Author:
T. Owens Moore, Ph.D., is a biomedical researcher, university professor, and an independent scholar with Zamani Press. He is a graduate of Lincoln University in PA, and he earned his doctorate in Physiological Psychology from Howard University. Dr. Moore is an internationally recognized lecturer, and he is a published author of several books and numerous scientific articles. Currently, he is a Full Professor in the Atlanta University Center, and he has served as the Chair of the Departments of Psychology at Fayetteville State University in North Carolina and Clark Atlanta University in Atlanta, Georgia.