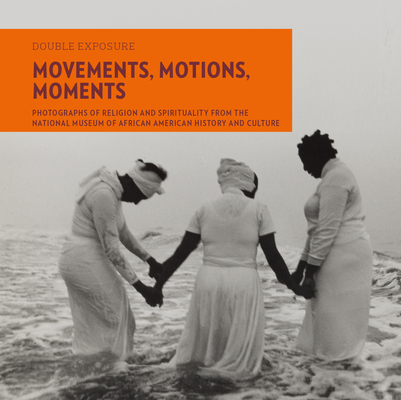 Movements, Motions, Moments: Photographs of Religion and Spirituality from the National Museum of African American History and Culture (Double Exposure #8)
Publication Date:
January 10th, 2023
Usually Ships in 1 to 5 Days
Description
The eighth volume in the Double Exposure series, Movements, Motions, Moments draws upon the visual images in NMAAHC's collection to explore the dynamic ways religion is engaged and practiced by African Americans.
Movements, Motions, Moments shows how African Americans have negotiated their participation and engagement in religious spaces. The book is divided into three sections--Movements, Motions, and Moments. Images of figures including Rev. Henry Highland Garnett, Noble Drew Ali, Father Divine, Prophet Elijah Muhammad, Rev. Dr. Martin Luther King Jr., Rev. Pauli Murray, Bishop Myokei Cain-Barrett, and others are depicted next to photographs of religious celebrations, ritual practices, and individual moments of faith and spirituality. Photographers include Lola Flash, Chester Higgins, Jason Miccolo Johnson, Jeanne Moutoussamy-Ashe, Kenneth Royster, James Van Der Zee, Milton Williams, Lloyd W. Yearwood, and others.
Photographs in this volume range from the nineteenth, twentieth, and twenty-first centuries and include religious traditions such as Christianity, Islam, Judaism, African indigenous, non-secular, and other religious traditions (Humanism, Atheism, Spiritualism, and others). It also includes photography capturing contemporary events and movements including Black Lives Matter and the global pandemic.